Xiaomi 4K Laser UST Projector Repair (white vertical lines)
11 August 2020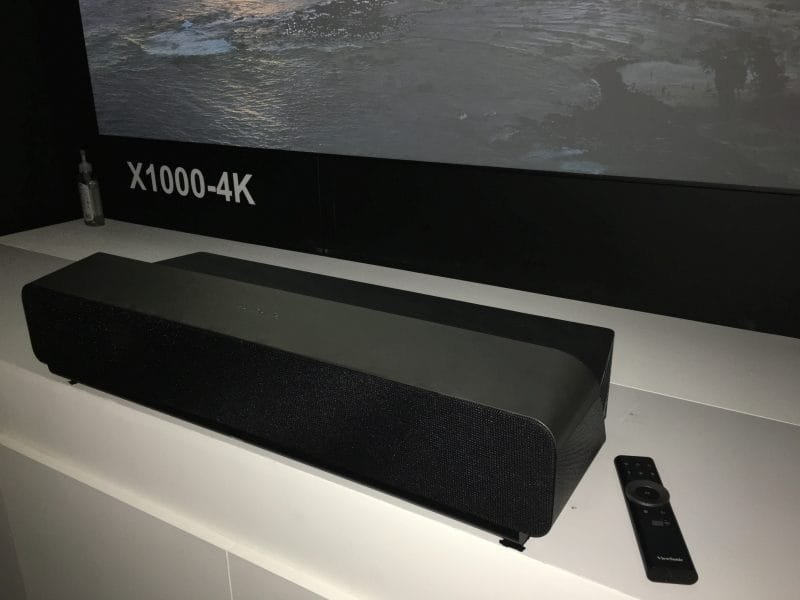 New UST projector from Viewsonic (Χ1000-4Κ)
17 August 2020
Xiaomi 4K UST Projector Review
There will be a time that all electronics in our houses will be Chinese!Remember that …
It's quite sometime now that a new fashion has come to the field of video projection, the UST projectors.
There are many reasons for that, but the main one is that this type of projectors can give us a great image without having to have a lot of space, or to hang on our roof cables, projectors, etc.
One of these projectors came to my hands and I took the opportunity to give you a presentation just to get an idea of what UST projector means.
Let's get started …
Xiaomi (the brand Xiaomi is not mentioned anywhere on the projector casis of course ..) is one of the many "copy" models that come with this chassis. You will find this projector (with some small specs differance) as Mijia, VAVA, Fengmi, Wemax, and I do not know how many more brand names.
Disassemble the Xiaomi I discovered the truth behind this frenzy of models with the same chassis …Appotronics, a VERY serious company and leader on the evolution at projection lazer technology.
Appotronics is a Chinese company founded in 2006, believed in Laser technology and from the following year, in 2007, began the development of Laser technology with focus on video projection.
This technology is called ALPD (Advanced Laser Phosphor Display) and is currently the leading Laser technology in the world on video projection.
ALPD technology started in 2007 and to date has reached its fourth version
And this is how we get to 2016 where Appotronics concludes a commercial agreement with the Chinese giant Xiaomi and together they found the company Fengmi technology with the aim of commercial development of Laser projectors. On the one hand, the excellent Laser technology of Appotronics, on the other hand, the leading manufacturer and manufacturer of electronic devices and the definition of "value for money" in the global Xiaomi market, created an explosive duo. The projector you will see in this review is nothing more than the fruit of this collaboration.
For the quality of ALPD technology in the world of video projection, suffice it to say that Barco, the company that holds 55% of the global market for video projectors in cinemas, uses this Chinese technology in its projectors. Did you say something?
The main innovations of the ALPD engine in the projection are two. Its amazing color performance …
..and the excellent value of lumen / watt (brightness / power) that has reached a point where it now exceeds the high pressure lamps traditionally used by most projectors. Indicatively I will say that there is an ALPD Laser optical block in a projector that produces 60,000 lumens, do not put a key in the ear (unless you have itching), you heard right …
The Xiaomi that you will see in this review uses the ALPD 3.0 Laser engine and the features that the company states are the following
Enough with the technical details though, let's move on to the "juice" of this review here, which is none other than the Xiaomi projector, let's go …
Xiaomi is a perfectly symmetrical rectangular box, nothing stands out, nothing spoils the symmetry. Its size with 41 cm width, 29 length and only 9 cm height makes it a clearly "gathered" projector that in no way will disturb the harmony of the furniture that we will place it to play.
It has exactly what you need from ports, maybe a little more …
Your first word after you set up Xiaomi and turn it on, it just will not come out, silence, absolute silence. It is almost impossible for your brain to comprehend that this "dodge" produces this 3-meter image from a distance of centimetres. It is a small shock, your brain needs time to process it, I lived it, I convey it to you.
After overcoming the initial shock I described to you, I connected directly to my computer to observe the sharpness from end to end. We are talking about the Xiaomi lens throwing light at distances from a few centimeters at the bottom of the image to "meters" at the top corners! Can hold a homogeneous clarity on all the screen surface?No, it can't, i am sorry…
And i am explain, notice that the closer we get to the corner, the worse it gets the focus    … (do not pay attention to the imperfections of the wall)
The next shock is the Chinese in the projector's smart menu. I did not look for it if it changes, but … come on my Chinese friends, for God sake, … put there an English menu for all versions of the projector and you done! Are you waiting for me to tell you that?Come on…
My next question is … will it be able the projector to focus from 80 inches to 150 without an adjusting lens ??? I think it is a reasonable question.
Oh yes, it does, okay, you can see that it tends to lose focus slightly when you go to 140 inches, for example (I think the ideal focus is set at 100-120 inches), but there is no particular problem.
Also, the "issue" with the focus on the corners disappears when a movie is shown, it will never bother anywhere. Basically, if I did not try to see how it goes in the corners, I would not take it lightly in a movie for sure.
Light output? I was expecting how and how to deconstruct the "great" brightness that I read right and left in various reviews abroad but … the projector is bright, very bright finally, what to do? Swords to swallow?
(you see 100 "which is the dimension I chose to do this review here)
Next test…measurements…
In a UST there is also the issue, where you place the instrument! It throws the light at such a great angle, that it is difficult to find the ideal place to place the instrument. We are talking about countless experiments …
Brightness 
I will not confuse you with the mounting points of the instrument or the multiple measurements at different points and at different angles. I'll just tell you a number. The projector actually produces about 1600 lumens. We are talking about a brightness that at 75 inches that I played reminds me of an ultra-bright TV, and the 140 inches it has …. just for fun. The ALPD Laser optical block produces light, it's not jocking…
Contrast
I measured on the Xiaomi on / off contrast 2.600: 1. I remind you that the company is talking about contrast 3000: 1, the Chinese, apart from being good manufacturers of projectors, have also become honest in the specifications they announce ?? That's nice!
The 2,600: 1 in a DLP with the classic low budget 0.47 "DMD chip I would say is an unreal number if I wanted to exaggerate a bit ..
But in relation to the 700 and 800: 1 that the classic DLP projectors produce with the specific DMD chip, I really exaggerate? I leave it to your judgment ..
Conclusion, contrast? Excellent … (it is something that can be seen with a naked eye after all, you do not even need a measuring instrument ..)
Now let's go to the main measurements, ..
I took measurements from all the default modes..
Let's see them …
Standard mode
Movie mode
Sport mode
Picture mode
Game mode
Monitor mode
As we can see from the measurements, the projector comes in the factory quite "off" in terms of  RGB. It is quite confusing and the dE2000 error algorithm is at its highest allowable levels.
I would say that Xiaomi needs adjustment out of its box to give the best picture possible.
But the important thing is one, does it have the sliders to be able to adjust it? And secondly, do these sliders work properly to collect the uncollected?
We are talking about a Chinese projector, that's why i am wondering…
Unfortunately Xiaomi has only the basic sliders. Only gain adjustment in RGB and no CMS slider.
But… the regulatory gain works! And it works well! Within half an hour of adjustments, I achieved the following result.
I also accept congratulations … (as a basis I used the mode movie)
If you can not understand the diagram, I will just tell you that it reaches perfection so that I can take you out of trouble …
I quote the settings in case someone wants to place them on their projector ..
If you activate the dynamic contrast option in the menu, the measurement gets the following value …
There are also 2 settings in the Laser. One is called Movie (in this I set the projector) and the other is called highlight, and gives the following measurement and a very small pushing at the light output
Somewhere here to say that Xiaomi fully tuned in movie mode as you saw in the measurements above, its brightness drops to 1250 lumens. That is, even when set, it still has brightness capable of opening up to the maximum 150 inches of image it promises. Hey guys, only me i am happy as if I discovered the wheel?
And now we come to where my big question from the beginning was, the colors.
Having seen and measured several Laser projectors in recent years (mostly professional models) I would say that the conclusion I have reached is that this technology is somewhat clinging to the issue of color triangle. This is not the case with Xiaomi with the ALPD 3.0 Laser optical block. And I explain …
The color triangle of Xiaomi does not resemble Laser projector and even Chinese! The coverage of the REC709 is impressive.
I sat down and carefully studied all the measurements to fully understand its color behavior.
Green
Brightness above ideal (Y), saturation slightly higher (DeltaC) and Hue (DeltaH) slightly closed (yellow). I would also call it "perfect" green for Laser projector!
Red
And here the ALPD 3.0 Laser optical block gives a brightness of red higher than the target, just unbelievable (red is a weakness in any Laser projector).
Blue
And here the color is supersaturated, with ideal brightness except for 100% which due to a big error in DeltaH produces a fairly low price
And let's move on to the secondary colors ..
Yellow
DeltaC is high, in Laser projector, these Chinese will drive us crazy, finally. "this much" yellow, you will hardly see in another projector … look at the brightness (which is probably the most important parameter in color), the Y in the bottom panel (in relation to the target Y), we are talking about ideal values .. .
Magenta
And here ideal brightness except for 100% which lags slightly. Saturation (DeltaC) high, which you can only perceive as positive ..
Cyan
Cyan has the biggest error (it "bangs" as we say in the DeltaE2000 algorithm) and this is due exclusively to Hue (DeltaH). It has a clear deviation from the basic blue color, however it also maintains its brightness levels very well, although slightly dropped compared to the ideal.
I would characteristically characterize the Xiaomi revelation, always in relation to its light source. Appotronics has done an excellent job on the ALPD 3.0 Laser machine. This is for sure.
Sharpness
In terms of sharpness, Xiaomi comes in the factory quite pushed. Notice the difference when I lowered the sharpness slider a few units …
And the time of truth has arrived …
Even on a normal white wall with imperfections, Xiaomi produces an EXTREMELY impressive image. I did several tests, and dare I say it, I was impressed. Despite its shortcomings as a UST projector (moderate focus, moderate light uniformity) the image it gives to the viewer is excellent. I did not expect it, but I saw it, and I was convinced.
In 4K material, its behavior is classic that of DLP projectors with the 0.47 "DMD chip. Enough noise if the material is not good, great image if you feed it with the absolute 4K material. In general, I would say that it also impresses in UHD playback, maybe more than expected.
Finally, let me say here that Xiaomi is a smart projector. It has 16Gb of internal memory to save your videos and of course a built-in media player that plays EVERYTHING in a second. Just put in the USB 3.0 your stick with your movie and Xiaomi will play it in a second completely without problems even if it is 4K with a huge bit rate. Well done Xiaomi!
For the end I left something that may not concern many, but it is definitely worth mentioning. The sound.
The projector has 2 speakers and 2 sub woofers and their performance is simply amazing. I can only compare this performance with the performanve of a good soundbar.. Its sound is loud, clean.,full, the bass is incredible and it does not "clog" even if you work it at the maximun level! Meanwhile, because it is a short throw and is essentially in front of the image, you really feel like you are listening to a well-designed high-performance sound system. Personally, if Xiaomi was in my living room, I would see and HEAR from it.
I created a video just to get an idea how the Xiaomi performs. Only … do not misunderstand me for the end, I couldn't help my self guys…i am sorry 🙂
And Part II
Conclusion
The Chinese will prevail, no one has the slightest hope to stand by them. They will be the first to send a man to Mars for sure 🙂
Xiaomi was a GREAT revelation for me. In none of the cases did I expect what I saw. Of course I did not know from the beginning that Appotronics is hiding behind, so I am somewhat justified. What I saw and was impressed was on a white wall and at a special UST screen, i just remind me that. I honestly can't imagine this projector playing on a special CLR screen. But my question will be answered soon as Vividstorm send me its famous electric CLR screen for testing. I am almost terrified of what to expect …. of course I will inform you..as always …
God bless you all
Nikos Tsolas