BenQ W7500 full review
19 December 2013
Kramer vs. Kramer or otherwise i1 Pro vs i1 Pro
29 December 2013
Fall of on/off contrast on Sony SXRD-update
In my earlier article I had talked about a strange problem that I encountered on a Sony VPL-VW80, involving very large drop of on/off contrast.
Our related article
http://www.projectorjunkies.com/?p=1384
Of course I am not with folded hands and started the search above.
I discovered that the first reported publicly that the problem was "gentlemen" of the German Cine4home and even wrote about this on Avsforum in 2008-9. With a little searching you'll find several issues concerning the specific problem.
Some of the links
http://www.avsforum.com/t/1172164/sxrd-ages-badly
http://www.avsforum.com/t/1062793/sony-vpl-hw10-v-panny-pt-ae3000/210#post_15047981
and someone "bold" indicating a problem on a gamma HW10 began gradually falls. Logical I would say since the destruction of polarising "illuminate" the whole grayscale and squeezes upwards … to the immovable white, dropping the numbers of gamma. Indeed speaks for flushing the image something that I found and I. Worth a look …
http://www.avsforum.com/t/1168031/sxrd-ageing-what-to-expect
It is known that if you say truths in many Forum create enemies, the well-known "parakeets-emporakoys-omniscient" in "fall" on the spot.
Let's watch some interesting snippets about the typical case, although it is advisable to read the entire threads in order to draw your own conclusions …
A few words from Cine4home side
About Sony: This company is impossible to deal with lately. Also, we found major technical flaws in the SXRD technology which they are not happy about…
We measured a few SXRD projectors already, which are continously losing their native contrast. Worst case is a Pearl, which is already way below 1000:1 natively.
With brand new Black Pearls, we found contrast deviations of up to 60% !
We do not know how many SXRD projectors will be affected. We measured like 5 of them in the last half year and all showed some degradation in contrast, color unformity and bright corners. This might not be representative (yet), so we do not make ane prognosis.
One of the VW100 had a brand new bulb yes. And one VW50 had about 400 lamp hours or so. The VW50 had the following issues:
– Bright corners became brighter
– Color uniformity degraded
– Native contrast degraded to a point, where you can actually see it. Means, the black became grey over time. So it is kinda obvious it has to do with "black"-polarization of the light.
The VW50 owner is a friend of mine and last time I talked to him he said "the black level got even worse since you measured the contrast last time"
The VW60 with their deviation were all brand new.
Now if you have issues like these with your projectors you usually send them to service but if the service denies the problems, then what you do?
and clarify for DILA technology which is similar
Although both being LCOS, we can NOT find any of these issues with the D-ILA projectors. No loss in contrast, not so big deviations and better service…
Seems the many years of experience with LCOS ist helping JVC alot… even my old D-ILA G10 never had any contrast loss..

After some timidly began to speak and to contrast their own dirty projectors … came "up" forum (everywhere there is at least one) to challenge the opinions of Cine4home and to justify the Sony … of course without any substantial argument ….
1) I have a friend with a 3 year old and his VW100 projector looks like the day it was new (terrible documentation!).
2) only The SXRD I have reported problems have been seen in RPTV sets and Sony has extended the warranty service on those products (our good responsible Sony).
3) I have sent email to my Sony tech contacts regarding life span expectancy for ALL components and SXRD optical block I will post their comments when I get them (wait to tell what exactly? us caught red-handed?).
4) Sony support tech in the US has been very good at the service in Laredo Tx facility as well as the tech/R&D site in California (that in Greece we say "licking").
5) There are many SXRD projector owners on AVS who constantly tweak their projectors and they would not hesitate to mention a serious issue such as contrast loss. Our AVS ownership of SXRD based projectors is certainly broad and deep enough for a pattern of panel failures to have developed and become obvious long before now.
Directly below it again "up-sigontadoros" this time, the main role is to always agrees with the "up"
Thanks! We all appreciate your efforts and excellent input.
and of course comes the truth of some random Member.
Yes, but you understand that if you don't say what some want to hear on this forum then you must be wrong or not telling the truth
These just to get an idea why massively difficult problems big companies come to the forums and how these "drown" more often than the known unknowns …
Can Sony SXRD projector owners to be too many. But how many of them have a light meter? How many of them will understand that o. O1 nits black was 0.05, which means 5 times worse on/off contrast? How many of them dealing with the projector calibration to measure low gamma? And finally those who adhere to the above, how many of them will go public to talk about the problem of USING the projector for which they have paid thousands of euros and will need to metapoylisoyn as used sometime (as we know ours is the best and we don't like to seem publicly "suckers" or that fucked).
Let's not forget the Kings of ignorance and imimatheias who believe that such a problem in the hardware of the projector is solved … just with calibration (somewhere took my eye and this and I almost to … do ABS..) … They certainly belong to the fun part. ..
As you understand it is extremely difficult to "booming" world of video even for a problem that occurs at very high rates.
Let's get to the problem.
We are the first worldwide who have discovered and published the specific source of evil (although cine4home made the first impact on problem rather the polarization of light and we ought to admit it). Talking about the destruction of polwtikis coating in the filters located before the panels and so we solved the questions many readers around the world.
Here somewhere to say that the coating is located inside of the Visual (and not on the outer side of Crystal) and cannot be destroyed by "accident" even if the headlamp solved for cleaning from the neighborhood butcher. The optical is sealed (so to not have SXRD problem with dust grains like the LCD) and access to does not exist unless you remove the SXRD panels. With such an energy course "forget" the projector, because never again to obtain proper convergence after reseating the panels and essentially unserviceable. I.e. the destruction of this coating can not be brought about by human hand or even deliberately, rather than just from wear and tear of use and hardware failure.
These polarizers have two internal coatings. The first layer is a one way mirror. IE allows on the one hand to pass the light while the reflection of the other. On top of this coating there is another one that plays the role of the polarizing filter. For me personally, and I wish I read this time and Sony's engineers, the problem is created first by high temperatures (with sealed optical means no circulating air inside the not so cool) and secondly by the wrong doing on the coating coating (which hasn't made the JVC in its own implementations).
The second coating is lost, not polarized light with the result that arrives in our monitor at a greater rate than what I had throughout the grayscale, essentially destroying the on/off contrast and our gamma.
Let's see in detail how this is done in a SXRD optical. Crystal-mirror with dual coating is the circled green and our panel with the brown color. The blue material imagine San that polarization coating that is embedded onto the circled green.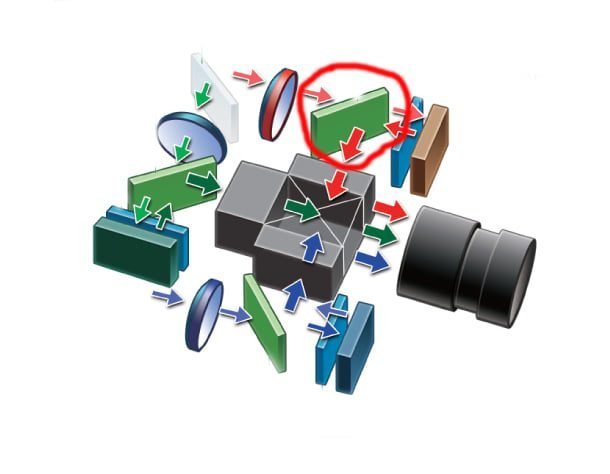 Light passing first by the polarizing filter polarized (to do as what simple becomes) and arrives as a on the Panel. Panel To undertake to allow some light to pass and return as a and another the polarizes b. The return of the light reaches back to the polarizing filter (as shown in the photo) some part of San a and San b some place. The polarizing filter allows a pass and absorbs the b (we have said, is a polarizing filter). Then the light reflected on the one way mirror and then arrives at lens and on our monitor. This is a very simple analysis to be done by all conceivable.
You understand that removing the polarizing filter from the equation, the Panel sends back as light accepts and this, in turn, reaches the lens. And why not contrast zeroed out completely I rwtage someone. Because the optical features and other polarizing embedded onto the panels. But of course is not designed to accept the entire burden of polarization with the known effects of halving (destruction) on/off contrast.
For this problem I have a more indepth view now, because my hands went through two other SXRD projectors and even high end category. A VPL-VW90ES and one VPL-VW95ES who both suffered from great contrast reduction, with 1700 hours and the other with 1000 something. In VW90, I counted one of the lower on/off contrast ever, anything over 700:1 and even the best measuring (with IRIS almost closed!).
Because of the technical complexity of the problem, contact the Greek official service would be useless in my view. BREW letter will contain all the elements and will be sent to the Central European service of Sony. It would be very interesting to see the company's official position on an issue that for me now, is not an isolated incident or random hardware failure. Of course we'll keep you informed and any answer will be posted here at projectorjunkies.
Good views and happy new year!
Nikos Tswlas