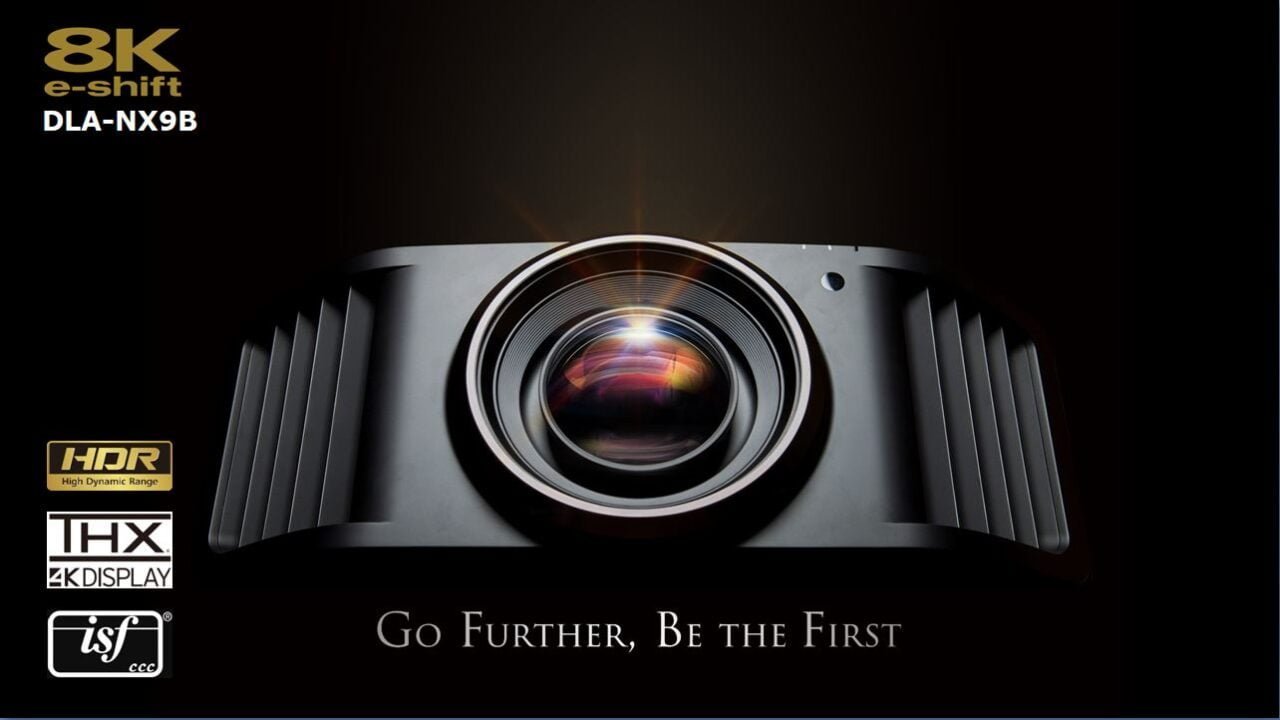 JVC DLA-NX9 Review
14 November 2018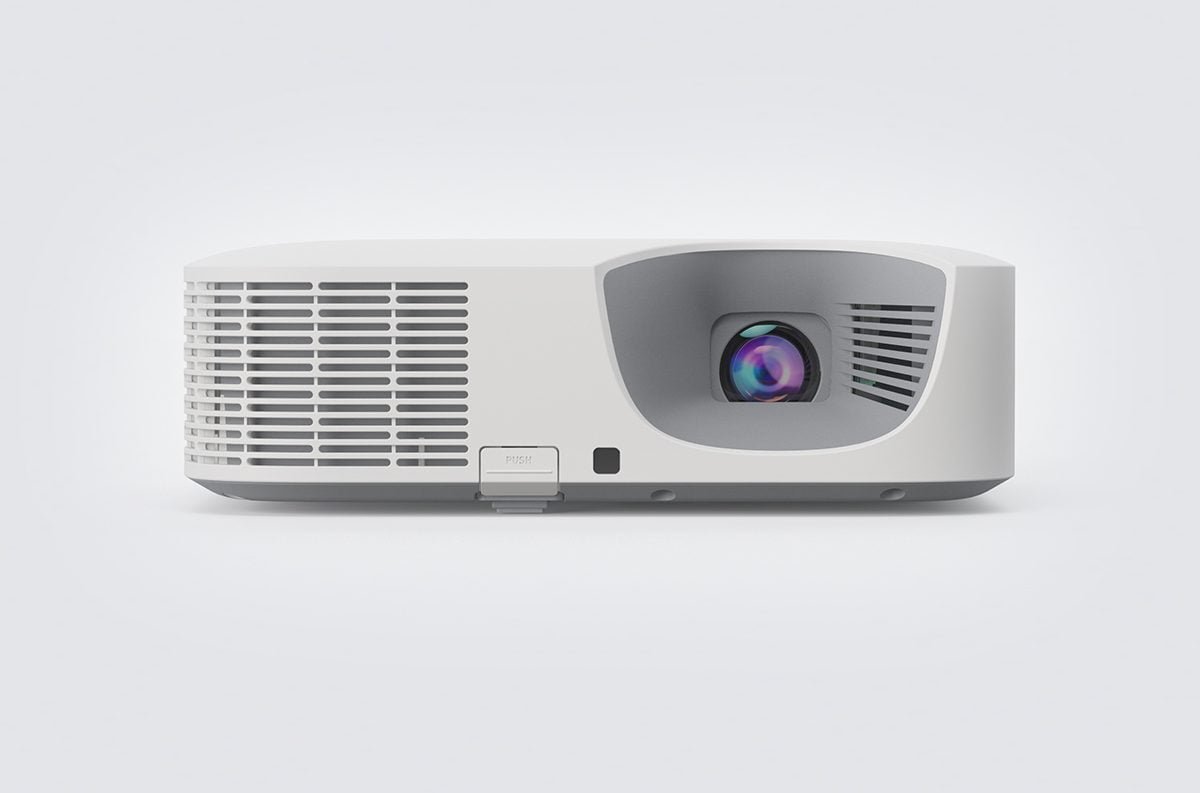 Casio XJ-V100W laser projector
4 February 2020
In my hands I recently arrived a young and "special" I would say projector from Viewsonic. Probably came the time crew as everything seems to get in and this company on the market of so-called multimedia projectors with a fresh technology LED projector, named of X10.
What is the Χ10? The Χ10 is a LED 4K multimedia projector DLP technology that promises to make the life of its user as easy as possible in the theme home entertainment. Is he succeeding? Let's see…
Presentation
Let's start with the design of the Χ10. We are talking about a "square" projector with dimensions 26cm x 27cm x 16cm and a weight of just over 4Kg. Appearance is special, made of aluminum and glass with touches of leather. Its build quality varies at very high levels, something we've been getting used lately from ViewSonic is the truth. From a matter of taste of course everything is subjective…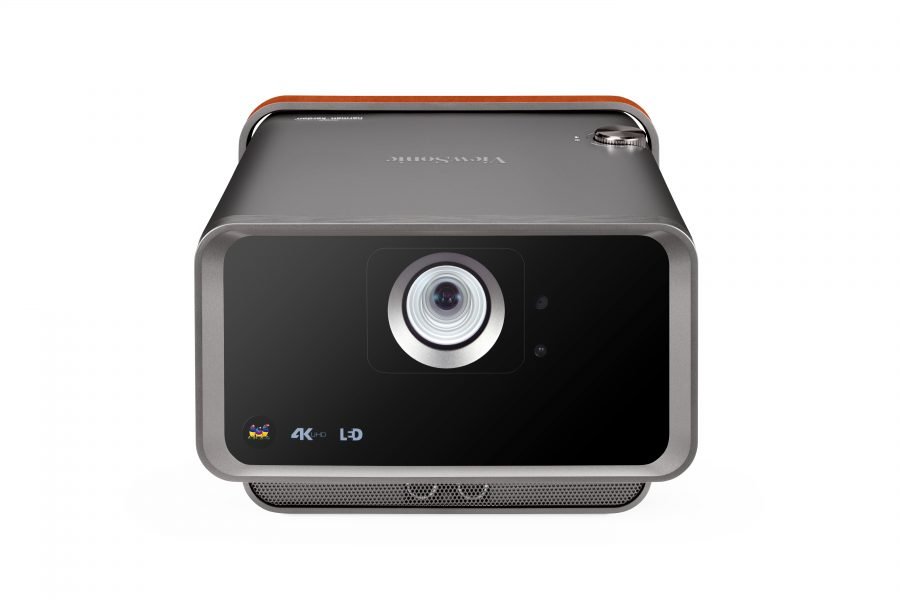 Let's start unpacking though to see him a little better…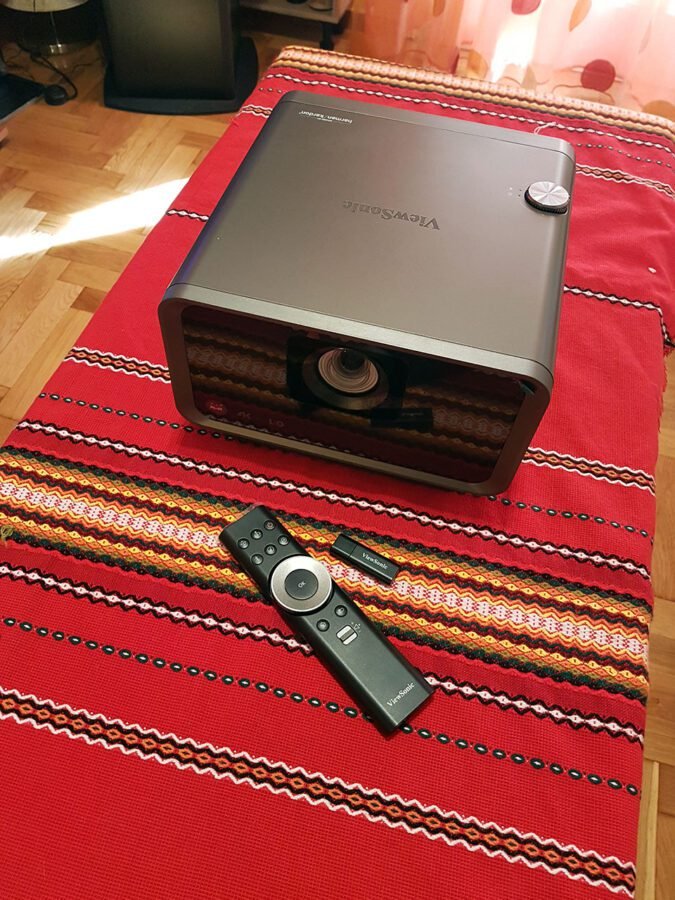 Of course it has a special extension so you can lift it as long as it takes to make your frame where you want it. It also has automatic frame correction so you will not be puzzled or "tired" to do it manually (in any case it is good to make use of the correction trapezoidal-Keystone-only when it is absolutely necessary)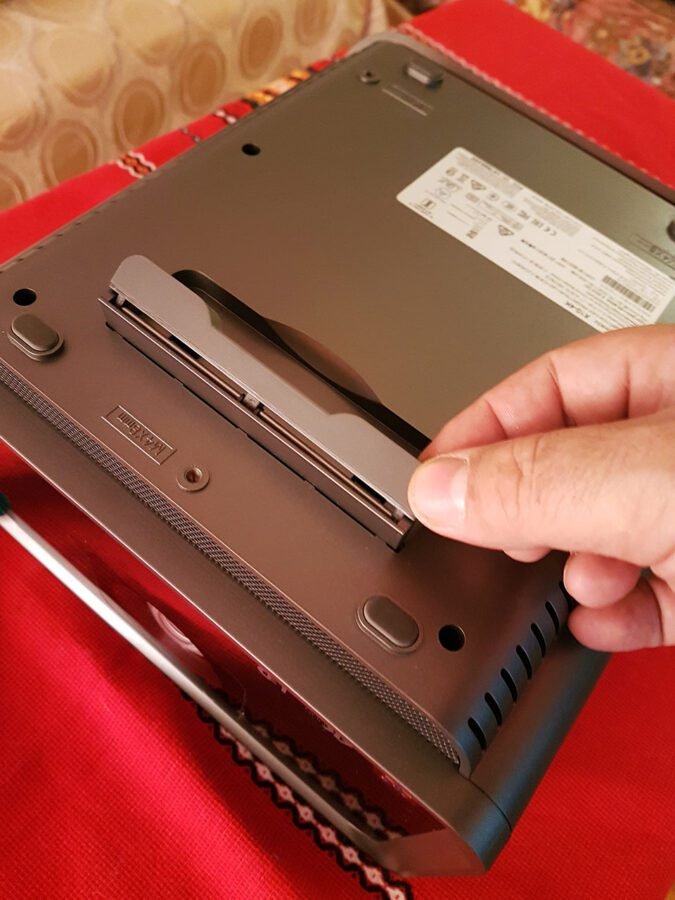 In the package you will find the remote control (illuminated with multi-key "washer") and a WiFi USB dongle which will allow you to connect the X10 wirelessly to your network.
The Χ10 is "design" at least one portable projector
Shouting from afar that in the theme sound there will be "surprise"…
On the back it has a magnetic very quality cover that either folds in two revealing the doors of the projector or can be completely removed.
Let us pass to see its technical characteristics…
In the case of the Χ10 we are dealing with a projector DLP technology that makes use of the now known 0.47 "DMD chip of Texas Instruments with native resolution 1920 x 1080 (specifically wears the second generation 0.47" chip which has eliminated the phenomenon of Shadow around the frame of the image that was suffering the first generation). But using XPR o Χ10 technology can deliver an analysis on our 3840 x 2160 sail, now known as UHD (Ultra High Definition).
Here somewhere let's make a small parenthesis to see how this XPR technology works. 

The 3840 x 2160 resolution is achieved by the specific FullHD chip with horizontal and vertical movement of pixels by half a pixel at a rate of 240 times per second (240Hz). In essence in the same second a pixel of that particular DMD chip can and is located in 4 different positions (60 times per second in each position), not at the same time, but alternates it so rapidly that the human eye understands these 4 Positions in the substance at the same time. In practice does this work? It works fine.. Believe me…
We go to the connectivity of X10…
From doors the Χ10 can be considered "lobster". It has literally everything with basic 2 HDMI ports HDCP 2.2 capable of cooperating with any 4K player on the market. It also has 2 USB ports (including one USB3), Micro SD port and USB type C (for streaming directly from your phone or tablet) and all the necessary audio ports you may need.
The placement issue now. The Χ10 is a table projector. That is, it actually winks at the user who wants to place the projector in front of him on the table and watch his movie or play his video game effortlessly. This also contributes to the fact that the Χ10 is a short throw projector with throw ratio (0.80) that can render an image 100 ' from a distance of about 1.80 meters as well as having a 100% offset lens (in essence the image starts exactly from the height of the LENS).
Here to say that there is no limitation on the image size that you can open with the Χ10. From 50 inches up to over 300 will do focus normally!
This of course does not mean that if someone wants to use it for another kind of projection the Χ10 does not have the necessary sliders, it has them. So it can be hung on the ceiling or even used in rear projection (with the appropriate cloth of course).
Other X10 goodies are its wireless connectivity. You can connect wirelessly over it and stream image from your PC up to Android (requires Google home to be installed) or your iphone mobile. It has a special "internal" USB port to snap the WiFi dongle of ViewSonic and not even appear, but on any external USB to connect it works fine. There is clearly the ability to connect it via cable to your network for more stable situations.
Another highlight worth mentioning is the voice control available to the Χ10. Whether through Google home or Alexa (Amazon), depending on which app you prefer (or Amazon device), you can perform all of its functions with mobile voice commands, even opening/closing the projector. It may sound a bit pointless, but if you turn on The voice commands you will not be unstuck, believe me…
Let's spend a little time to see the X10…
To begin with, the X10 as a genuine multimedia projector has a functional Android (as you have already guessed) which runs a 4core processor where it uses 2GB RAM and 16GB of storage space.
This in itself makes the Χ10 an ideal media box where it can autonomously manage and play almost everything without the use of an external media player. He's playing everything seamlessly. 
Also through a dedicated store app you can download apps that are useful to you, from players to streaming channels (or even third-party apps via classic installation. apk file). Of course it comes with pre-installed basic applications such as Netflix (which incidentally plays normally in 4K resolution on the Χ10).
The second feature we have to stand for is the light source. The Χ10 makes use of the second generation RGB LEDS with double blue LEDs to produce light and not the classic high-pressure lamp that we are accustomed to in most projectors of the market. ViewSonic maintains that the Χ10 generates 2400 LED lumen (and not ANSI Lumen) brightness and the lifespan of LEDS exceeds 30,000 hours. That is, even if you operate 6 hours a day 365 days a year, then you will exceed 13 years of use before you start worrying about replacing it. We are practically talking about projector lamp replace free, so its use can be done as unnecessarily as we wish without worrying about any extra operating costs, simple things and nice I would say!
But enough with the "theoretically", let's go see him…
I put the 10 on the coffee table and aimed it at a free wall above the sofa in an attempt to make a classic "rough" projection that I assume will be the most common one called the Χ10 to perform.
First positive impression is its light. The Χ10 is probably the brightest LED floodlight circulating out there (I always talk about real brightness and not the announced). He has nothing to be jealous of at all. Even in a living room with uncontrolled lighting it can illuminate the frame amazingly. You can see a football match at 100 inches a day or full-light at home (as long as you don't exaggerate the screen size, the ideal inches are about 90-100, without meaning this that you can't open and 130 ' BC, you just have to Ambient light). But clearly, if you want the maximum quality in the image, you should make sure that there is a relative blackout.
Second positive impression his flashlight. The Χ10 has an excellent electric flashlight that "shaves". It makes auto focus with sensor available on the front. All you have to do is set up the projector at the distance you want, and the Χ10 will take care to do autofocus, and do it well, VERY well. Of course in any case there is the manual option that the user can through the remote control to even make adjustments. The edge-to-edge sharpness of the frame on this projector gets excellently, the convenience of autofocus is simply a welcome bonus.
Playing a bit with the Χ10 menu I found that this particular projector is excellently studied by ViewSonic. It has everything on its sliders, and so much more! Significantly highlights the existence of a full CMS slider (rare for this type of projector) and frame interpolation to achieve correct motion when viewing material turned at 24 frames. I don't know if the powerful 4core X10 processor is important but the F. I is working a C. It has three operating positions (low, Mid, high) where all three do what it promises with the fewest possible side effects. Especially in the low position you get an excellent move without suspicion of artifact. In the remaining two positions the movement acquires the characteristic "Viggo" of the many frames, but if it does not disturb the Χ10 will not create other "themes" in the image, such as older F. I implementations that we have seen at times.
Important, in the Χ10 the F. I works on 4K projection!
Operation Noise
Here the LED technology and the quality of the ViewSonic fans do wonders. I didn't even look at the noise level the company announces because I don't care. What I found out is that the Χ10 is the quietest DLP projector I've seen in the last few years. Very important is that the same noise level increases very little if you put the LEDS in their full power, so in this case it still remains silent.
Basically, the Χ10 will never be disturbed anywhere, very important for a projector that will probably be playing at the table, right in front of us!
I almost forgot…
We absolutely must stand in a function of the Χ10 which I personally found extremely interesting.
The Χ10 therefore has an ultrasound sensor at the bottom of the lens that reads if there is an obstacle in front of it and automatically closes the LEDS. ViewSonic calls it Eye Protection and the reason I'm sure you've already suspected him.
This sensor can be set to operate at 2 distances, one 50cm and one 100cm. Depending on our choice, if anything appears on the lens straight within the specified distance, the Χ10 closes its LEDS in a flash and reopens them when it finds that this obstacle no longer exists.
Because many times I have stepped on it and accidentally look at the projector lens (usually when you go to catch something in front of it and unconsciously your gaze falls on the lens) something that can cause an eye injury, I consider this function that Added ViewSonic to the Χ10 is just excellent. Not to mention a child who will pass in front of the projector while playing and look at the flashlight! As you see this safety feature is something that all the headlights should have in my view, especially those intended for viewing from our living room table.
In the image now…
I had him in my arms for about 2 weeks and I wrote with him about 110 hours. It's the first time I've been writing so many hours on a test projector. If you do the deeds I played ViewSonic more than 6 to 7 hours a day (!). 
All these days I used it to watch my series on Netflix (VERY convenient that it has the application of Netflix integrated finally because all you need to connect to it is current!), surf with screen mirroring from my phone or PC and of course watch TV through Cosmote TV. As a conclusion, I'll just say this. A DLP projector with LED light source produces one of the most relaxing images that can be seen in years 2019. You can watch endless hours without ever feeling the fatigue of the TV or a classic DLP projector candle with a color wheel. Eventually perhaps an LED DLP is the ideal choice in surfing at 100 "inches and not only…
The Χ10 is a very bright projector, this is the first impression one receives. Combined with the exceptional sharpness of the lens, the image is impressive. I counted about 840 lumen brightness with its LEDs in full mode and 670 lumen in eco mode. Excellent numbers for LED projector and if we put in the equation and short throw of the case directly you understand why its image is so impressive even with uncontrolled ambient lighting.
Informative 840 lumen (which are by themselves an excellent number for home cinema projector) in an LED projector correspond roughly to 2000 lumen, perhaps more, a regular "torch" projector. This is due to the Helmholtz-Kohlrausch effect, so it cannot be compared directly to the numbers of a "torch" projector.  https://www.viewsonic.com/eu/products/projectors/lumens/
Its colors are clearly oversaturated, vivid and impressive, something that is reflected in the measurements I took…
Something that can't be explained/imprinted on the metrics is a chromatic naturalness in the intermediate shades that is projector for DLP and makes the image so pleasing to the viewer's eyes that it is puzzled when it needs to be seen in some other image medium having in mind the Χ10 (especially if needed to see someone else "torch" DLP projector).
In 4K HDR material, the Χ10 plays ball on his court. XPR Technology does a really great job in how it delivers 8 million pixels in the image. In any case it gives you the impression that the projector is a native 4K and not someone with FullHD chip.
Sharpness and resolution range in very high levels and give a satisfying result both in UHD BluRay playback and in 4K streaming material.
The brightness of the HDR10 material can be far from the standards (no projector meets the brightness standards HDR10 basic) but you don't call him that with any indolent, just as the image you see has definitely a WoW effect!
Roughly I would say that with the Χ10 you get a visual effect of 80% of a native 4K projector in the subject of analysis (and this only because of an almost imperceptible "boiling" of the image at the 4K projection). Not bad, I'd say.
Software and hardware in the issue signal processing do an excellent job whether they are going to add frames to a frame interpolation or they are going to handle a lower resolution material that should make upscaling. 
In the only sector that the Χ10 finds Dark is in the dark scenes as basically all the DLP projectors. With Real on/off contrast 940:1 (there's about all 4K DLP projectors Regardless of what companies announce) you can't expect miracles. If you put in the equation the not so smooth calibration of the shades of white in the low IRE that the readings wrote, you should show "understanding" when there is a purely dark scene in a movie, you feel somehow that you lose some Details down there, not something disturbing.
In the subject of grayscale the Χ10 "is slightly blue in the high IRE, balances somewhat in the middle and becomes slightly warm at the low. One should tamper with its sliders and play with it to correct the situation. I did not, because the result I was getting in my eyes during the viewing was excellent and I never bothered anything so intensely that I would go into the process of calibrating it.
In practice, of course, when playing 4K HDR material, it will be very difficult for you to be puzzled by the mediocre "contrast", the very sharp and luminous performance of the Χ10 gives a dynamic in the image that "hides" the medium black thoroughly. 
Somewhere here I say that test in 3D mode I did not because of lack of 3D glasses, although much I would like to see how it attaches is the truth.
For the end I left the piece of sound. In this area, the Χ10 hides a surprise for its owner. We are talking about a normal portable sound system of exceptional performance! ViewSonic in this area has made its miracle. Personally, I've never heard such good sound from projector. The Χ10 Whaddaya in straight serious 300 + Euro sound bars if we want to make a comparison. Sound full, all frequencies are there, and tension that will honestly be alien (can comfortably cover a space of 30 square meters).
It has of course equalizer for microsettings in its menu so you can bring the sound to your feet. 
And the bonus of the case? The Χ10 can execute and Bluetooth speaker debt. Connect via Bluetooth your mobile phone (or any device) to X10 and use it as an "excellent performance" wireless speaker. The Χ10 in such a connection will normally function as a speaker without physically opening its LEDS. By sound? You just have to listen to him…
Some screenshots on 1080p hardware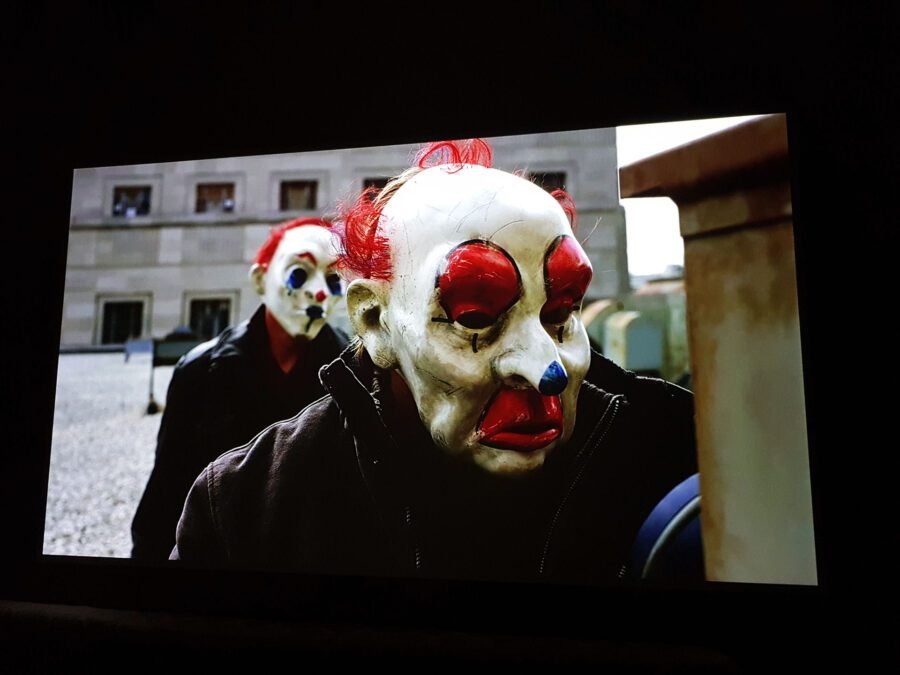 and 2160p HDR10 material
Epilogue
The ViewSonic x 10-4 K is essentially the first "serious" multimedia LED projector currently on the market. I have seen the corresponding implementation of LG in the past, no relationship, it looked like a child's play in front of it (and in picture theme Let's not open my mouth better). Extremely bright, sharp, 30,000 hours of operation in its LEDS, impressive color with very good 4K HDR, real surprise in the theme sound, "lobster" in the subject of connectivity, silent, wireless image transmission, quality build excellent, Easy to set-up with autofocus, what more can you ask for?
Disadvantage of only the moderate level of its black (but in this we probably have to blame the Texas Instruments for its stagnation in this matter for so many years, despite the companies that make use of its DMD) and perhaps its somewhat pinched price (personal I would prefer not to exceed the psychological limit of 999 euros). But the saying "what you pay you get" usually applies in the majority of cases… It also applies to the Χ10, believe me…
(Don't go away, I'll add a clip to get a taste of its performance)
Good views
Nikos Tsolas