4K DLP projectors | Is it real 4K? (XPR technology explanation)
10 January 2021
The 159.99$ full HD projector | is it worth it?
28 November 2021
 Optoma CinemaX P2 | Full Review
The category of Ultra Short Throw projectors is literally on fire and not unjustly so. Whoever sees a UST setup at least once, does not go back to the classic projection, at least judging by mυself.
The reasons are many and I will try to count them…
1) Everything is gathered close to the image, no more holes in the ceiling, no more long cables, no more wife slipper, no more divorces, etc.
2) Due to the close aiming of these models the image is less affected by the ambient light. So under certain conditions they can play night AND day.
3) All of them are Laser technology which means at least 10 years of daily use completely without problems, without lamp replacement etc.
4) Their optical engines revived the old DLP technology and now giving the viewer what he has been missing for years in all models of this technology, decent contrast.
5) Huge image of 100+ inches even in small living rooms that do not have the necessary space to install a classic long throw projector.
6) Excellent integrated sound system that comfortably covers small and medium spaces and saves you from extra costs like speaker cables, amplifiers.
7) Something that sounds funny to many people, but for me is important. There is no shadow in the picture even if someone is even half a meter away from the screen, think about it.
If these 6.5 (lol) reasons have not already convinced you that the future of home projection is Ultra Sort Throw projectors, keep reading and it might become easier …
Optoma CinemaX P2
The P2 is Optoma's proposal in the mid-range of 3,000$ and belongs to the new and ever-rising category of Laser TVs.
This category was named like this because it is perhaps the first time after 10 years that a video projector can play a dual role in our living room, that of home cinema unquestionably, but also as a replacement for our classic television device. Especially if combined with one of the special UST ALR screens on the market then it can really stand as the only display device in our home with spectacular results.
For those of you who have not seen super bowl at 120 inches, you just don't know what you are missing 🙂
But let's leave the chatter and let's go to see P2 closer…
Let's start with the fact that P2 is a big projector, big and heavy. It does not have the slim silhouette of the well-known Chinese UST projectors of Xiaomi nor their weight, and this is not necessarily bad … as we will see below. Over 10 kg and almost 60cm wide.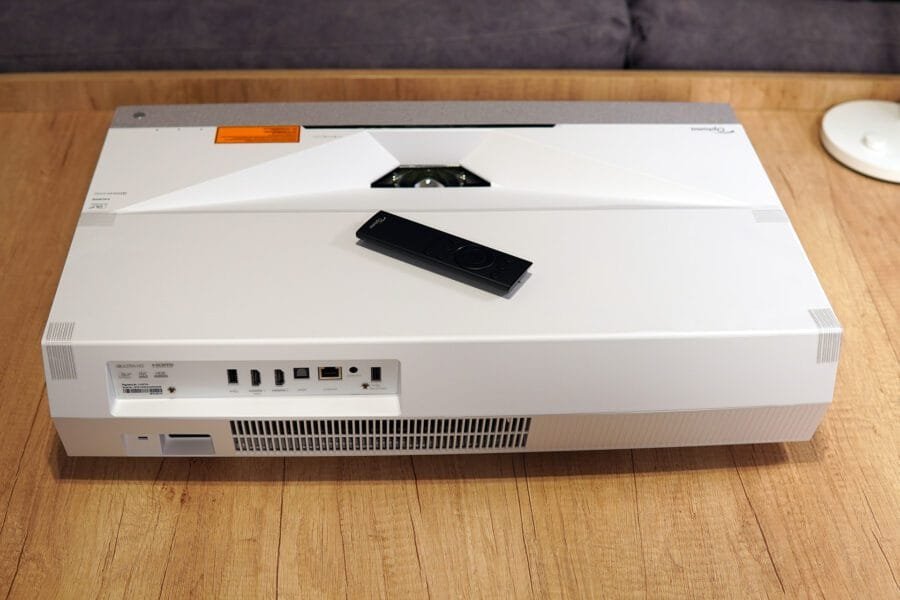 On the front we find a very high quality and elegant perforated fabric that hides a very strong Bluetooth sound bar.
The only button you will find on the P2 is in the front right corner and acts as an on/off switch. The rest of the functions are performed exclusively by remote control.
P2 has two HDMI 2.0 ports, and one HDMI 1.4 on the right side (port 1 supports ARC). Three USB 2.0 ports, one of them is used exclusively as a service port, the second as a 5V 1.5A power supply and the third one as a classic USB port for connecting a hard drive or a USB stick.
Two audio outputs, one digital and one analog and an ethernet port for its cable connection to our network, it has WiFi wireless networking of course.
The remote control deserves a little attention. Quality construction made entirely of aluminum with the right sense of keys. Small in size, but heavy, Bluetooth technology so we do not need to face the projector to operate it and it is rechargeable through a micro USB port located at the bottom. It has the absolutely necessary keys so as not to confuse its operator with useless functions that he may never need and a discreet white light every time we press a key. In other words, this is exactly how all the remote controls of our home appliances should be made..
Let's take a quick look at its features so that we can go and see how P2 performs.
4K UHD resolution (3840 x 2160)
Brightness 3,000 ANSI Lumens
Laser light source
Light source life 30,000 hours
Screen size from 85 to 120 inches
Weight 10.5 kg
Dimensions 57.6 x 38.3 x 11.5 cm
CinemaX P2 Hardware
Laser Light Source
P2 it's equipped perhaps with the simplest Laser light source that uses a combination of a blue Laser diode array, a phosphor wheel and finally a common color wheel of six color regions (six segments RGBRGB) like the one used by all single-lens DLP technology projectors. This Laser source comes from Sharp/Nec (https://www.sharpnecdisplays.eu/p/laser/en/technologies.xhtml) with a lifespan of 30,000 hours and is the following
Optical Engine
Last but not least, in the heart of P2 optical engine we find the now well-known 0.47 'DMD of Texas Instruments where in combination with the XPR module of the Swiss company Optotune it gives us the coveted 8,300,000 pixels of UHD resolution.
Sound System
To begin with, the P2's built-in Bluetooth audio bar is isolated and cannot affect its image with its vibrations. The sound bar consists of four drivers, two 2.75 "woofers and two 2" aluminum tweeters which are driven by an amplifier with a total output of 40 Watt.
Μenu
Exploring the P2 menu I am going to analyze you most of the special features it has in order for you to get a more complete picture. Let's start with the first image we see when P2 is turned on, and it is the following…
By clicking the apps tab we enter the marketplace of applications where we can download useful applications such as netflix, amazon prime, plex, etc.
Let's start with the system settings that concern general settings of the projector
In the second tab we find the networking, wireless and wired, whatever suits your needs (i suggest wired networking for many different reasons)
In the third tab we find the Bluetooth networking menu. Somewhere here we have to mention that the P2 works also as a standalone Bluetooth speaker. There is a special button on the remote control and when is pressed P2 connects to the player we have selected and works as a Bluetooth sound bar (with unexpected good sound performance) without having to start the projector. I found it quite useful streaming music from my mobile whenever i want it to.
In the fourth tab called system we find system sliders such as language, time, date and of course the system update that I must note that is working automatically. As a result, the projector notifies you when a software upgrade is available and simply asks for your permission to install it. In my case this happened the first time I connected P2 to the network.
The fifth tab concerns power options and includes exactly what we may need such as sleep timer and auto power off in specific minutes of inactivity.
Finally we have the tab that we can configure the projector management via Lan or HDMI connection.
This was the P2 system menu. Before we move on to the main menu with the image controls, it is worth mentioning that the P2 also has a fast menu that is displayed by holding down the menu key on the remote control and that gives us quick access to useful controls such as the HDMI port option and some basic image sliders. It is probably the menu with the most usability as it turned out during my cohabitation with P2.
Image menu
The most important menu is undoubtedly the image menu. Let's take a look and explain at the same time what you can do with each slider.
This menu appears horizontally in our image and its first tab contains all the image sliders we may need to adjust the picture
In the display mode, the HDR and HLG (Hybrid Log Gamma) options stand out, which are automatically selected when the material we feed the projector belongs to one of the two categories, but the HDR SIM is equally important. (HDR Simulation). The HDR SIM. we can choose it as a display mode on non-HDR material and P2 through special algorithms in gamma to do an HDR simulation by raising the brightness of the high lights and thus adjusting the gamma in each scene so that it visually deceives us that it is pure HDR material. It works unexpectedly well and most importantly without "side effects".
Going down we come across two very basic sliders. Brightness Mode and PureMotion.
In Brighness Mode we can choose the power level of the laser light source in steps of 5% from 50% to 100% but also three Dynamic Black positions that they play the role of dynamic iris with amazing results in the contrast of dark scenes.
PureMotion, which also has three intervention positions and the off position of course, plays the role of our well-known frame interpolation, introducing extra frames at specific times, smoothing the motion of the movies that are shot at 24Hz. PureMotion is a VERY important since the DLP 4K projectors that use the XPR module to quadruple the pixels are unable to produce multiples of 24Hz with usually disastrous results in the motion performance of these films. Therefore, P2 can and does play these movies perfectly whichever of the three PureMotion positions we choose, this is a HUGE plus for a DLP XPR projector  I would say.
Continuing down to the menu we meet the well-known BrilliantColor (we said that the P2 has a normal classic color wheel) which has now reached a point of evolution that reaches perfection in terms of its non-color interference in the whole image as it used to in the past.
Here are the three most important image sub menu for someone who wants to get serious about adjusting it. Color Temperature  with default values, full CMS  for detailed adjustment of primary and secondary colors as well as full RGB (Color Temperature) adjustment sub menu.
In the next tab we find the
-gaming mode (sorry but doesn't appear in the screenshot I took) which we activate during gaming and reduces the input  to around 50ms, VERY important function for a gamer
-Geometric Correction that it gives us incredible sliders to correct our frame such as Warp control and calibration to correct any possible image distortion, even if we are projecting on an uneven wall.
-The frame delay if we want to adjust the length of frame delay
-HDMI settings where we can choose EDID between 1.4 and 2.0 depending on the device we connect and HDMI EQ slider with which we can improve the signal quality if we use a very long cable.
In the next tab we find the slides of the 3D projection. CinemaX P2 performs exceptionally well in 3D material and I urge its future owner to definitely try 3D material projection, it will be left open-mouthed.
Next is sound tab. The P2 as i already said has an excellent built-in four-speaker audio system and with this menu we can fine-tune it's operation
However, the most important submenu in the audio tab are the Internal Speaker Delay with which we can set in ms (millisecond) the possible audio delay in relation to the image as well as the Digital Output Delay which respectively adjust the audio delay of the optical output. The P2 solves the huge and unsolvable problem with the slight sound delay of most UST models on the market emphatically, as both of these controls work flawlessly.
In the penultimate tab we find some basic sliders like
-the projection mode that allows us to project from different positions of the projector such as upside down on ceiling or in rear view position.
-Various test patterns to set up our frame correctly.
-The High Altitude mode where it increases the speed of fans in case we live at high altitude and the air is less dense or during the summer months when the average ambient temperature increases dramatically.
-The electronic focus of the lens
-And the sensor that detects if a person is close to the lens and his eyes are in danger, giving the order for a momentary reduction of Laser light source power in order  to avoid any eye injury.
In the last tab as usual we find general information about our projector.
Testing CinemaX P2
Centering a UST projector is not the easiest thing in the world because its very short throw ratio makes every little movement destructive to our frame. So, it requires patience and fine handling. As I mentioned above the P2 is a large and heavy projector as you can see for yourself in the screenshot below compared to other similar UST models. Fortunately, it fitted marginally to my furniture and the test started …
The first thing i notice in the P2 is its perfect focus from edge to edge of the image as well as the minimal color aberration of the lens. I have never seen a UST projector so far which excels in these two areas. Maybe I came across a good "piece" or P2 in general is just very well built in as far as its optical block is concerned. In any case, it was something that impressed me and I thought it was right to mention it first.
Second positive impression is the operating noise. Optoma reports in the specs of the projector operating noise is between 26-28db. I couldn't take a measurement because the room noise was louder than the projector noise and if I putt the instrument right on the output grilles, it wouldn't be a representative value at all. However I can say with certainty that the P2 is the quietest UST projector I have install so far in my living room, if that is enough for you. And of course I'm not just talking about its cooling system which due to the large size of the chassis obviously gave the optoma engineers the opportunity to reduce the noise produced. Also, the XPR module of P2 IS is completely silent, something that does not happen in all 4K DLP projectors, believe me.
Measurements
Things in UST projectors are not simple as far as their measurements are concerned. The wide viewing angle as well as the special CLR screen of Vividstorm, can give completely different measurements from point to point. That's why I used my own methodology, having a regular projector throw ratio as a reference.
Brightness
The P2 gave me a brightness after the screen of about 24FL. My Vividsorm screen is about 0.5 gain so we can easily assume that the P2 produces exactly twice as much. If we do the math (1FL = 10.76 lux) then we have 48FL which is equal to 516 lux and if we want to convert them to Lumen then it is enough to multiply them by the squares of the screen and we end up with 1414 lumens of brightness.
These in cinema mode. In bright mode the projector gave almost double the brightness and I reserve for its brightness in HDR mode which I could not measure. But if I assume from what I saw, I would say that in HDR mode the P2 delivers brightness very close to bright mode, that is close to 2,800 lumens which translates to 1400 true Lumens that the viewer's eye receives by looking at Vividstorm. This brightness at 100 "is abysmal and means that you will never miss the light whatever the room light conditions, in addition many of you i believe that you will reduce the power of the laser to make the image more relaxed.
I confuse you with brightness measurements I know, but unfortunately measuring in a UST is not so simple as already said, as a general conclusion I will say that the P2 is an ultra-bright projector that can and does deliver HDR material with exceptional brilliance that even TVs would envy.
Contrast
Obviously, here also the things are complicated too. I will only mention contrast values ​​that I measured on the screen.
on / off contrast 3.450: 1
Ansi contrast 1.850: 1
(The ansi contrast was measured with a special tube construction so that I can get the correct values ​​on the screen without the instrument being affected by the ambient lighting)
I did not enter the process of taking color measurements because it is useless. 90% of the test was done with HDR material where the measurements in REC.709 and in power gamma would say absolutely nothing.
Let me mention here that the special UST ALR fiber enhances the native ansi contrast of the projector so this exceptional value is not exclusively due to the P2 performance.
Picture
Out of the box the P2 only needs minor adjustments in brightness and contrast to show its teeth directly. The color is quite balanced and I would recommend not to bother with any color slider.
HDR
At least 90% of the P2 test was done with HDR material. Either with HDR movies, HDR gaming or HDR demo clips.
Its HDR is one of the best you will see on a DLP projector out there. I have never noticed something wrong in the picture or a weakness of the algorithm with dimmed darks and supersaturated colors, as I have seen in many projectors of even more expensive category. Its highlights are brilliant, the gamma is what it should be in the dark scenes. Such a brilliant performance despite the weakness of DLP technology.
The resolution of the 4K material is there and the excellent sharpness of the lens helps the final result that the viewer receives to be extremely enjoyable. Light and dark spots coexist harmoniously in the image and the final result satisfies even the most demanding eye..
The only flaw in the whole HDR experience that started to bother me at some point was its delay to turn in HDR mode with the result that at the beginning and at the end of a HDR film (lock and unlock on HDR) the viewer receives a majestic black image for 2 maybe even 3 seconds. in the end, I think I can live with this …
In terms of color, as I said, P2 is very balanced. No exaggeration, the saturations are nice and the brightness of the colors is rich. In UHD HDR10 projection the color information is managed very well and the result can be characterized by a single word, balance.
Its XPR module is PERFECTLY tuned and its accuracy in moving pixels is beyond all expectations (the Laser light source also helps to say the truth). This gives explosive detail and sharpness from end to end in the frame of the image and our eyes do not satiate to observe it. There were scenes that I put on again and again because I was feeling like I was not fed up with them enough.
Its contrast in combination with the Vividsorm screen is out of this world in terms of DLP projection. This combination of projector/screen today gives the highest ansi contrast that anyone can get from a projector regardless of category and price and is a strong reminiscent of OLED TV. You are really glad to see an illuminated scene with bright spots inside it … in this particular scene it was as if  a window had opened in the universe in my living room.
Gaming
The PS5 in combination with CinemaX P2 is a deadly combination. If you start playing HDR gaming in 100 inches with such an image, you do not stop easily. Where to start and where to end, is something that someone must see with his own eyes to understand how it performs and why I can not find words to describe it. Even the nintendo switch I connected to with its 1080p resolution really shone. I did about 30 hours of testing on P2, most of them were definitely gaming …
The gaming mode that reduces response time does the job. No, it does not make the P2 a gaming monitor but there is not this spastic delay that most UST models that have passed through my hands had. In P2 you can enjoy classic gaming without any annoying delay and only in online games I guess (because I do not play) the user will face some difficulties with input lag.
Useful functions
When you have a Laser UST projector in your home and some imagination there are a lot of things you can do. One of them has already been predicted by Optoma and is the Infowall application.
Through this application you can project various visual themes that literally transform the space. A nice painting, a living landscape, etc.
Since I already use it as a feature in my own UST projectors, I will tell you that it is an amazing application that literally transforms the space according to our mood. My favorite is an aquarium illustration, the ultimate relaxing theme …
Since we are talking about UHD ultra-bright image with good contrast as you understand, P2 performance is so unbelievable that you are almost fooled by.
In collaboration with the Optoma connect application you can send material such as live weather, messages from social media, a classic watch, a favorite video from your mobile phone, and be displayed during the day or night. You can also schedule when the projector will run and for how many hours.
Just think you are waking up with a huge image that covers the entire wall of the room with a live video from a forest, with natural forest sounds and information about your current work schedule as well as the messages you received on FB at night (ok, the last one is a little risky). And right after you get out of bed, it turns into a huge old type of TV device, playing some random episode of..let's say "friends", until you get ready, after you leave the house the projector turns off automatically.
10 minutes before you returning home it starts again again and play an idyllic landscape with cascading sounds of nature etc. as a reception and just before going to bed a stunning painting like the starry night by Vincent van Gogh e.g. And all these with the possibility of live weather of the landscapes according to the real weather at the specific time. Did you say anything?Didn't hear you 🙂
I know all these sound strange but because Ihave been using it with my own UST projectors for a long time, I will tell you that you can no longer live without these "comforts" if you try them once. Also the plausibility in all this, in the display of a painting for example, is UNBELIEVABLE. If you put a live garden playing through a door, most likely you will end up trying to get out in some phase unconsciously, believe me.
Another useful function is to adjust the frame from our smartphone directly. We simply put the projector a few inches from the wall and then we sit down and adjust it while sitting on our couch with our smartphone very easily and fast.
Okay, it is not suitable for permanent home cinema facilities but because we easily move our UST from its place to another place of the house, e.g to watch a sport event on our terrace or to view a waterfall in our garden one Sunday morning drinking our Latte coffee, this application is really enjoyable.
Somewhere here to say that P2 has a TapCast application so that we can directly and easily wirelessly mirroring our mobile phone, our tablet, our laptop and project that at that moment we want some video, photos, anything. Because in this case everything is via Wifi the freedom is great since the projector only needs power. Imagination to have countless uses …
Finally, do not forget to mention that the P2 has a built-in player with 16Gb internal memory and can play everything from a USB stick, hard drive or internal memory without the use of any external source. When I say it can play anything I mean everything … even heavy 4K files.
3D
I could not not try projection on the P2 since from my own UST projectors I have formed the best impressions. CinemaX P2 does not disappoint in this area either. The large image of 100 inches in combination with the abysmal brightness and the very good contrast make the 3D projection an enjoyable experience. I do not know what you have seen so far in 3D projections, review immediately and look for UST projector to watch it again, only then you will understand me. I can not say much, only that you will definitely put the 3D projection back in your weekly schedule if you get a UST, and the same goes for the P2.
Sound
And here the P2 is at the top among all UST projectors on the market. The Dolby Digital 2.0 Bluetooth built-in 40W audio bar does a great job. The Dolby sound it produces in movies but also the stereo in music is full bass with the right high pitches and high volume if and when requested. The big chassis of P2 also helps a bit since it gives the necessary liters of space to the drivers. As I said before, the P2's built-in sound comfortably covers a small to medium-sized living room and can easily stand outdoors.
A picture is worth a thousand words. Definitely a video worthing more, so I made a short video for you just to get a taste of Optoma CinemaX P2 in action. I suggest to watch it full screen at UHD monitor or UST projector 🙂
Here a side by side shout out with Fengmi Cinema Pro 4K projector
Epilogue
Generally speaking, at this time the ideal combination that someone can make to see the best possible LARGE image regardless of cost in a living room or in any area of ​​the house, is a UST Laser projector combined with a UST ALR screen. No other projector, no other system, no TV can beat this combination in terms of enjoyment and picture quality, when of course we are talking about uncontrolled lighting and reflections conditions such as our homes, in dedicated home cinema spaces there is room for some talking concerning normal throw projection…not for long i think…
The future ladies and gentlemen is called Laser TV and it is already here.
The Optoma CinemaX P2 left me with the best impressions of the 3 weeks I had it in my possession. I think Optoma has also matured as hardware/software in terms of the new UHD HDR10 image standards and the performance of the Cinemax P2 has reached top levels. P2 is the definition of a plug n play device, the user places it 20 cm from a wall, plugs it in and presses on on the remote control, that's it!In a minute you can enjoy a youtube 4K streaming in 120″, is this amazing or what?
Especially if P2 combined with a UST ALR display, then the overall user experience really takes off.
Stay safe!
Nikos Tsolas