It had to be done!Made my own UST projection cabinet!
21 December 2020
4K DLP projectors | Is it real 4K? (XPR technology explanation)
10 January 2021
JVC LX-NZ3 Review | The JVC Laser 4K DLP projector
No one can resist to these small 4K DLP projectors as it turns out. Neither the queen of the projection, the JVC. That in itself, says something I think…
It's been close to two years since JVC release its first 4K DLP projector, LX-UH1. I've seen the projector in the past on the fly two or three times, but I haven't had a chance to take it to my place and check it seriously.
This opportunity was given to me by JVC , but for the new Laser 4K DLP projector, the LX-NZ3, which is also JVC's most serious attempt to enter this popular category of 4K DLP projectors i think.
What I saw, what I experienced with him, you will read it in the following lines… don't be hasty 🙂
Nz3 is a DLP projector that use of the well-known 0.47″ chip of Texas Instruments and which with XPR technology (which admittedly has improved greatly) actually quadruples the physical resolution of the chip and from 2 million pixels we finally take on our screen appear the coveted 8.3 million pixels that make up the UHD resolution.
XPR technology is not new, but it is constantly improving and now I would say that it has reached a point where these projectors are rightly called 4K, since what our eye receives is indeed a 4K image. I don't want to mess up your mind with technical analysis, anyway we'll talk more about the XPR of the small Laser JVC later.
Let's move on to NZ3….
The JVC Laser DLP projector is a medium-sized projector weighing 6.3 kg and with dimensions 40 cm wide, 35 length and only 15 cm high.
Generally the NZ3 would describe it as a compact and elegant projector with quite distinctive lines and a nice golden touch around the lens breaking the blackness of its plastics.
It has a lens with a wide zoom range of 1.6X which means it can open 100 inches from a distance of 3 to 5 meters, which is rare for a DLP projector.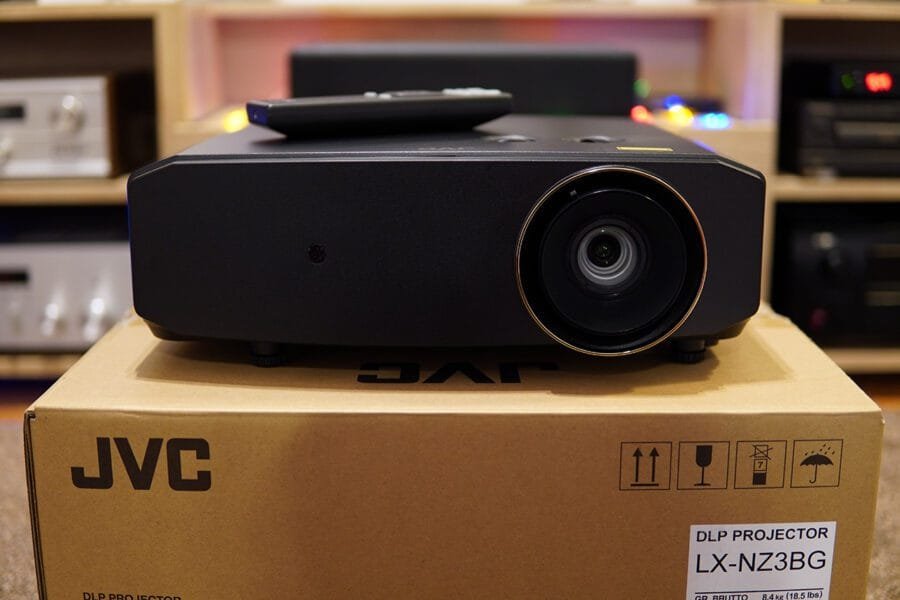 Something even rarer is the presence of horizontal and vertical lens shift in NZ3 which makes it one of the easiest-to-install DLP projector out there
From ports it is worth to stand on the 2 HDMI of which one is 18gbps HDCP2.2 and allows the transfer of solid 4K60Hz signal.
The light source technology used by NZ3 is our now known hybrid LASER-PHOSPHOR source that we find more and more often lately in new models.
The Laser diodes used by NZ3 are Class 3R class with a total power of 65mW (emitting between 449-461 nanometers) and make use of Texas Instruments 0.47″ second generation DMD chip in its optical machine.
JVC calls this Laser source "BLU-Escent Laser Light Source" because of its reflected phosphorus and not permeable technology that makes this light engine much more efficient than the competition. More light, less energy consumption and lower operating temperatures.
The NZ3's optical block is completely sealed, which guarantees us trouble-free operation over years, and zero maintenance.
The company announces a brightness of 3,000 Lumens for NZ3 and a minimum lifetime of 20,000 hours in full use of laser diodes.
The remote control that comes with the projector does not win a design award under any circumstances, it is also relatively bulky, but it is quality and works well. The keys are rubber-clicked and convey a kind of confirmation to the operator that the command given is gone and travels to the infrared sensor of the projector.
Let's start with the NZ3 menu and then move on to the main course…
Menu
The NZ3 menu is relatively simple and easy to use. I'd say much simpler than that of his big brothers N5-N7-NX9.
On the first tab we find the basic sliders of the image
Pictures modes are three.
–Natural for balanced image and movie viewing

–Cinema for balanced image and screening of movies in full blackout
–Dynamic for maximum brightness image in bight environment
At the end of the first tab we find a subtab that inside it we will find the advance image sliders
The most sic gamma slider
Grayscale temperature sliders
The full CMS color control.
A ταβ with some extra color settings
–Color Enhancing with which we can intervene overall in the color saturation of the image and in the normalization of its gradients
–Skin Tone with which we color the skins of people and not the overall picture

–Super Resolution which is a kind of acuity slider which works with different algorithms specially designed to distinguish borders so that objects look like they are being thrown out of the screen
Αnd finally the regulators of HDR10 and HLG.
We can choose one of the two or leave it in auto and nz3 chooses itself depending on the material we feed it.
The picture tone we found in the large DILA models is also available here and works accordingly by adjusting the brightness levels according to the values carried by the meta data of the material.
On the second tab we find the e-shift slider that we found somewhat irritatingly slow in the changes. Simply put in the off position the projector plays with 1080p resolution and in Position on plays with 4K resolution
On the third tab the most important slider we encounter is that of the Laser setting which can and takes the following values
-Normal : The Laser source works at maximum brightness.
–Eco : Reduces projector brightness and noise by 30%
–Variable LOW: Works like an iris, depending on the scene reduces or increases the brightness of the Laser source. The maximum value of light, however, is that of Eco mode
-Variable HIGH: Works like an iris, depending on the scene reduces or increases the brightness of the Laser source. The maximum value of light, however, is that of Normal mode.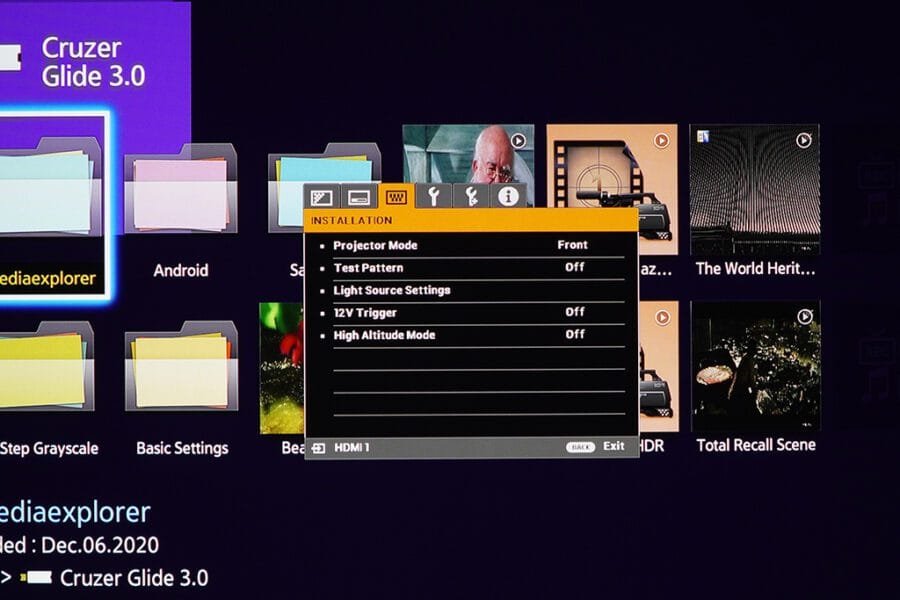 On the fourth tab we find some rudimentary system controls.
In the fifth tab we find the advance controls of the system.
And in the sixth and final tab we find the various information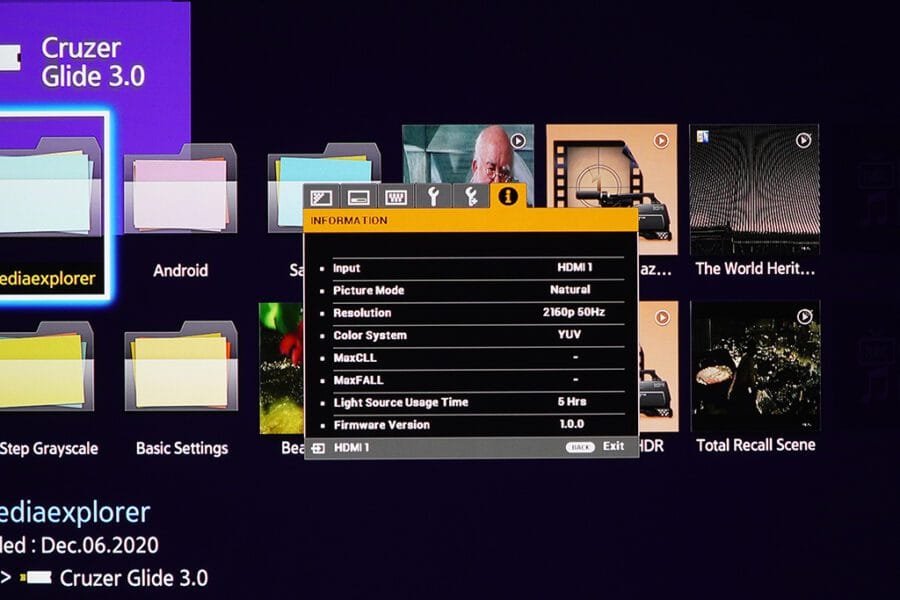 Testing the NZ3
I set the NZ3 across from my Celexon Dynamic Slate ALR screen and pressed the on/off button on the remote control. The projector came directly to life without warm-up times and the well-known JVC logo appeared on the screen.
I centered within seconds with the practical and VERY useful lens shift that features waving the corresponding rings at the top of the projector and made with focus with the corresponding ring on the lens.
To tell you the truth, it was a bit bad for me to see the JVC logo but at the same time I had to make these settings manually and not from the comfort of my sofa via a controller, but let's not forget that the NZ3 costs half the money from the company's next 4K projector (DLA-N5). So you kind of make your heart stone and move on…
Observing for the first time the frame on the screen directly my eye fell on an outline that forms this second generation DMD chip and I immortalized it in an overexposed photo so you could see it too.
It's a light out-of-image border about 2-3 centimeters in size that's there for no reason, so to be there, it doesn't affect the view, but it seemed a bit like it and I wanted to mention it…
Exploring the nz3 menu I stumbled upon something else I didn't like.
Going to turn e-shift on or off I found myself in the image below…
Oh yes, every time you turn on or off the 4K eshift you stay 10 seconds a statue looking at a black image. Are you going to tell me there's a reason to turn off the eshift? 10 seconds?? I'm sorry, but I find this delay frustrating.
Okay, Nico… He got over it, I said it from the inside, and I kept going…
Just playing with the projector menu and before I even put some material in to see the first thing that struck me is how bright the NZ3 is.
Are you going to tell me how bright, Nick?
So bright I will answer that in the smaller setting of the Laser and playing on ALR gray screen with a negative gain of 0.8, the image is almost tedious at 100 inches. What can I say, I don't really know what living rooms or screens JVC had in mind when it designed the NZ3, but it certainly wasn't the 100 inches of my living room…
I could now tell JVC to set the laser with gradients so that someone with a small display screen can watch without getting tired of too much light.
Of course, I placed my organs directly and started taking measurements. So I got the numbers below.
With the projector covered in cinema mode I took a measurement of 1520 lumens with the Laser in the Eco position and 2460 lumens in normal position. In dynamic mode with the laser in Normal position I took a measurement of 2890 lumens.
The 1520 lumens in the smallest possible setting may give a very impressive view in 4K HDR10, but in general they make viewing on small screens tedious to problematic.
I would say that nz3 is designed to play on screens of 120 inches or more, and even negative gain if possible in terms of using home cinema.
If, of course, someone uses their projector as a TV by watching day or sports events, etc., there may not be a better projector for them at the moment.
Contrast
Here things are beans measured in the 4K DLP headlights and the NZ3 is of course no exception.
1130:1 showed the NZ3 on my photometer
This is the "curse" of 4K projectors with the XPR system, with this contrast you have to live their owner, unfortunately.
That's why all these 4K DLP projectors are good in my opinion to play on ALR screens at a negative profit. The NZ3 is no exception, and even with such high brightness that it performs I would say that the ALR display in its case is imposed.
The NZ3 Contrast if we put the Variable setting on the Laser source tends to infinity since on a black tab the light source goes out completely. Of course, we're talking about a fictitious measurement that has nothing to do with real viewing.
Measurements
Out of the box his behavior is a little odd as far as the scale of gray gradations is concerned, he wants his teasing in his sliders.
So is its cinema mode before settings, a strange behavior in gradations of 50% or more, I would say NZ3 is trying to give even more brightness to the image with the trick of low gamma.
And so after setting (strangely with too few clicks on the rgb sliders).
Its color triangle is okay, a slight deviation in the secondary magenta and cyan that there was no reason to even bother to correct them. .
I would say that if someone wants to get the most out of NZ3 it is necessary to adjust it properly, once they do, their image really soars and acquires the cinematic texture that every home cinema projector should have.
We said, beast nz3 wants domestication…
Impressions
It is known that every 4K DLP that makes use of the XPR module (all that is) is quite noisy and this is due to the operation of the system. The XPR (for which I will make a separate article soon) is essentially a crystal that with the help of four electromagnages can and does a slight movement on the vertical and horizontal axis. This electromagnet system is located between the DMD chip and the lens and creates a noise that is characteristic and somewhat like a high-frequency crackle.
The same sound exists in the NZ3 when we have the 4K e-shift enabled in its menu (most 4K DLD projectors do NOT have the option to stop the XPR running and see image net 1080p) but to a much lesser extent than the one I'm used to hearing on these 4K models. Of course, the implementation of XPR, which is unique to each model, plays a role, and the quality of its mechanism varies from projector to projector.
In JVC as I expected a very quality XPR mechanism has been installed which is relatively quiet and very accurate (because accuracy is an issue in these mechanisms, I will analyze it extensively in a subsequent article).
I didn't try any 1080p hardware on NZ3 is the truth, I gave it straight 4K to see its performance compared to the N5 I had almost parallel to it.
Seeing the first scenes in footage I've seen in 10s, not to mention 100th 4K headlights directly I found something I can now speak directly about.
The 4K XPR module in DLP projectors with the 0.47″ DMD chip performs with laser light source much better than the corresponding classic high pressure lamp. This has the following explanation.
The XPR which moves, basically diverts each pixel to 4 different positions 240 times within the same second on the vertical and horizontal axis, needs to take in its introduction the photons, as "evenly distributed" as possible so that this deflection makes it as accurate as possible. I don't know if I can explain it more simply.
This gives Laser 4K projectors that use XPR a head start in terms of pixel displacement accuracy and how clearly they will be reflected on the screen compared to conventional projectors.
This is something visible and an experienced eye finds it very quickly and has nothing to do with either the lens or the material.
The NZ3 as a Laser 4K DLP projector makes the most of this lead and captures its pixels on the screen with sharpness and clarity that can be compared more to Native 4K projectors than to cousins of the DLP 4K.
Not to scare you, this is something that an average user who watches their movies in their living room doesn't easily understand. However, it can be easily seen in a confrontation next to two projectors, a DLP laser and one with a lamp.
I'll try with three photos to give an example…
Here's a 4K DLP projector with its XPR turned off, so it plays like a 1080p since this is the native resolution of its chip
Here the same projector with its XPR turned on and now like a 4K projector (it's not out of focus the photo, there's just now the "ambiguity" of the XPR I told you above)

Here is a Laser 4K projector with its XPR enabled (the NZ3)
The difference in the last two photos clearly shows the superiority of the laser 4K DLP projector over a lamp in terms of the accuracy of the XPR module and the accuracy reflected on this screen by the displacement of pixels.
Okay, I've had enough of you with the technical issues, let's get to the point of this review here which is the performance of NZ3
The combination of NZ3's good 4K XPR for the reasons we explained, the abyss dramatic brightness that converts 100 inches into a super-bright window and the ALR screen that presses the contrast and reduces reflections in space, is unique.
If not the ideal for relaxing dark views in a living room (probably the opposite), it will surely bring smiles of embarrassment and pleasure to any observer who finds himself in his way.
The detail of the image is at very high levels and the pop up effect of the combination with the ALR screen turns a blind eye. Everything comes alive and pops out of the sail in an impressive way.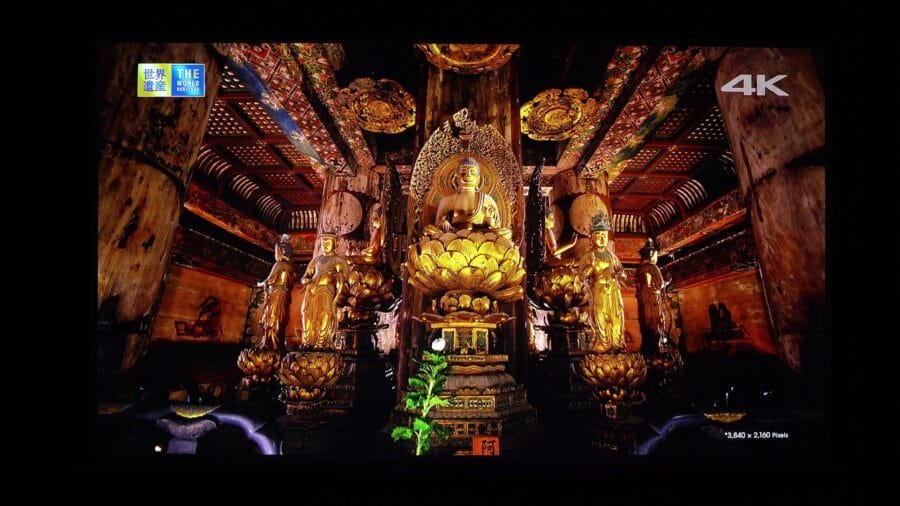 Of course if someone really wants to enjoy NZ3 they should make sure to combine it with an ALR screen of 120 inches or more (personally if I didn't have space restrictions I'd go to 140-150 inches without thinking too much). At 100 inches, NZ3 looked like a wild animal in a cage attacking my screen without pity.
I repeat, the NZ3 does not make for small screen inches, and I charge this as a mistake to JVC that did not somehow make sure that the brightness of the projector can be reduced with some slider. And I don't even imagine I had a white screen with gain 1 what my eyes would see.
In HDR10 material, however, the terms are reversed and JVC is now grateful for making sure to endow NZ3 with so much light. No matter what we say, math is relentless. The HDR10 needs light, the more light, the more impressive it gives us the highlights of the image, so the more impressed the viewer.
Here, apart from the DMD chip's inability to render deep black, the experience of viewing good HDR10 hardware in NZ3 is unique, dare I say one of the most impressive that my eyes have seen lately in a projector regardless of price.
JVC's software and algorithms in Picture tone are largely reminiscent of the large DILA of the N series and give top performance to NZ3 when it has to manage HDR10 or HLG hardware.
In dark scenes a 4K DLP and with such brightness finds them dark as naturally expected.
Dark grey, however, is also the black of nz3, which unfortunately has begun to consolidate as performance on this 0.47″ DMD chip regardless of the optical machine used by each manufacturer, and this is now annoying.
Of course if we put the NZ3 Laser in variable low position, then in dark scenes the projector reduces the power of the Laser and in combination with an algorithm that adjusts the gamma at the same time per frame achieves a very good result of improving the contrast in our eyes. This reduction is very discreet and you almost don't notice when it works and when it doesn't, so during the tests this "iris" I had it turned on.
My advice to all holders or prospective buyers of DLP 4K projectors however is to combine their projector anyway with a good ALR negative gain screen. The improvement in the viewing experience is staggering and this inability of DLP to perform deep black is masterly covered.
From a noise point of reference NZ3 will not be concerned except in cases where it will need to play HDR10 material. That's where it maxes out its brightness, and the combination of the phosphorus wheel, the XPR system and its fans running at maximum speed creates a buzz that if we sit near the projector and there's silence in the room, it might be annoy.
Here is a small video i have created for you, enjoy it!
Epilogue
NZ3 has left me with mixed feelings if I want to be precise. It is a projector that has strange and special requirements from its owner. It looks for large spaces and large screens, detailed adjustment if we want to give us its maximum performance and 4K HDR10 hardware to reward us with the most embossed and detailed image we may have seen in DLP projector.
Its price at 3,699 euros is quite pinched, but also somewhat justified considering that with this money we buy a 4K Laser projector with 2,500 calibrated Lumen brightness and a lifetime of more than 20,000 hours without any need for maintenance. Also the large zoom and the vertical/horizontal lens shift also give a very big advantage to NZ3 , that of easy placement in the space.
Good views and stay healthy!
Nikos Tsolas