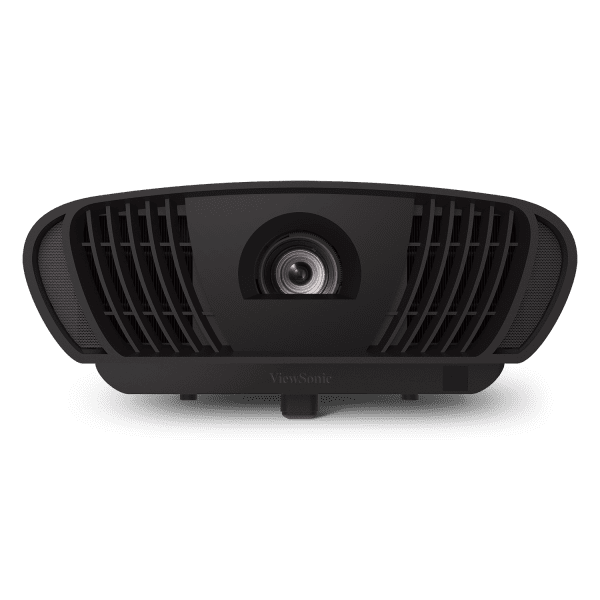 New 4K LED projector from Viewsonic (X100-4K)
12 July 2020
Xiaomi 4K Laser UST Projector Repair (white vertical lines)
11 August 2020
Celexon Dynamic Slate ALR Screen review
Many of you may do not know they exist. Others may have just heard of them. However, ALR screens have been on the market for years and their evolution has reached a very high level in terms of their performance.
But what is exactly the ALR screen?
One of the benefits on ALR is that the screen return almost all the light it receives from a projector back to the viewing position and not in all directions such as a common white fiber (so reduced reflections in space), and the other is to prevent ambient lighting coming from various other angles from being sent to the viewing position to mess up our image (so nice contrast image even with ambient lighting).
How does ALR do that?
The special PVC plastic from which the fiber is made, has the ability as the angle that a photon hits it grows, the darker it becomes. Simply the more sideways we look at it, the darker it looks in our eyes, and as we know, the darker the color, the greater the absorption of light, and less reflection we have. That's ALR!
The Celexon Dynamic Slate ALR is such a screen that in addition to the above two features it claims to improve both the black levels of the image even in a dark environment that reflections do not affect the image, such as a special black viewing room.
Let's go to the screen test though and you'll be answered a lot of questions…
The screen comes very well packed with all it's accessories arranged in boxes, special impression made me and that the bottom rod of the screen comes bolted/immobilized with a metal angle on the chassis. This ensures that the screen during its transport will not be under stress due to vibration and will reach its owner intact.
Its placement is extremely easy, in essence it hangs on two bases that secure on it and can be put on a wall or ceiling. That is, we screw the bases and the screen comes and snaps on them making its placement very easy even by a single person.
Impression causes that the screen comes with built-in RF receiver and with the corresponding remote control, but it also has an IR external cable accompanied by a second remote control which is also contained in the package! It also has a built-in trigger port and with the cable (which is also included in the package) we can connect it to the corresponding port of our projector in order for the screen to opens automatically every time we activate our projector. Also in the package you will find a special plastic key with which you can adjust the length at which the screen will stop from 2 screws located at the bottom left of the screen.
I stand on them because on the ALR screens of most manufacturers the above are considered extra, and are also purchased as extras. Celexon decided to put everything factory and sell its screen like this, which is something positive.
Let's go see some key features of the screen.
-High contrast cloth made of special PVC with gain 0.8-
-Its chassis is made of curdly white aluminum with no visible screws on the façade;
-It has a tension system with elastic ropes that keep its entire surface completely flat, which is even adjustable by the user-
-50cm+ extra fiber so that it can reach the level we want without having to place the screen lower-
-No black margins that gives us the flexibility to use it in whatever format we want!-
-The completely smooth surface of PVC makes the display ideal for viewing material up to 8K with enormous accuracy in each pixel without any concession to sharpness-
Finally, celexon dynamic slate ALR has all the necessary certifications ( ROHS, REACH, CE – 2014/53/EU )
I'm copying from Celexon's official description…
The perfect home cinema experience within your own four walls can be quickly clouded or faded by residual light in the room or light reflections from white room walls. Our ALR 0.8 Gain high-contrast "Dynamic Slate" fabric can help here. It successfully filters out disturbing stray light and focuses the projection light on the audience without distorting colours. The perceptible image contrast increases many times over.
Our Dynamic Slate high-contrast screen fabric was specially developed to optimise the contrast value, even in low light conditions. You can say goodbye to typical "wash-out effects" or "grey haze" even at low dimming. The Dynamic Slate ALR with its 0.8 Gain is deliberately designed to be neutral and reproduces the projected image faithfully. Disturbing glitter effects and the resulting hot spots are actively avoided with this fabric.
https://uk.celexon.com/tension-dynamic-slate-alr
If the screen does half of what it says, personally I'll be very happy…
The Test
-Levels of black-
The Celexon in this area leaves you with your mouth open (above the Dynamic slate ALR, down a mat white gain 1 screen, half screen). As soon as you lower the ALR in front of a white screen the difference in the black level is more than noticeable…
A close-up screen shot comfortably reveals the difference, watch out for the black suit, how much cleaner black and free from the gray blur is in ALR material
-Ansi Contrast-
But the most significant improvement that can be seen in Celexon is the dramatic increase in the so-called ansi contrast. The diffusion of white into black is almost zero on this fiber. That's something that if you don't see it with your own eyes, you can't believe it, I saw it, and I present it to you with perhaps the most ideal photo. Notice how white lines pop up in ALR through a deep black, and how the white screen dramatically affects the black level.
This is what we call "ansi contrast boost"..
The photos are taken with exactly the same settings on the camera so you can understand as much as possible the difference in ansi contrast
The screen material does not allow light to be diffusion between points in the same shot, so black remains black even if very bright spots are present in the same shot. I can't measure that, but it's definitely an ansi contrast that I'm not used to seeing on a normal projection…
– My living room-
For those who project in "special" home cinema room with no reflections at all,  this session may not concern you. But for those of you who play in a common living room with white walls and ceilings, welcome to the club!  🙂
This screen screams for a light-colored living room, so I installed Celexon in my living room and started testing…
The truth is that I had a very big question about the difference that Celexon ALR would make in my space, I was pessimist enough because my space is quite limited and the reflections come from almost everywhere. Let's go and see a comparison between my ex white screen and the Celexon Dynamic Slate ALR screen. Second you will see the ALR always…
The reflections are impressively decreasing, I would say about 70-80%. The increase of ansi contrast, the best level of black and the limitation of reflections literally transform the image, give it a three-dimensional texture and improve the whole viewing experience.
What is the model of your projector and how good is it, really goes into second place with this screen…
The decrease in brightness (around 30%) in no way bothers because the increase of the contrast (blacker blacks) received by your eye makes whites look just as bright as was with the white screen.
This harnessing of light offered by Celexon ALR makes the image apart from being more impressive, and more relaxing to the eye, it gives it a naturalness I would say that I personally find ideal for viewing movies and series.
-Measuring-
On the left is the Celexon Dynamic Slate ALR and on the right is a Kauber white label white with gain 1. The Celexon for ALR looks fairly balanced (with slightly pinched blue in RGB measurement), and shows a brightness decrease of about 30%.
I should note somewhere here that on ALR screens it is extremely difficult to take measurements (the above measurement is a point reflection from the internal light of the spectrometer) because it's strange reflective properties require special treatment (the instrument must be completely vertical on the screen and exactly in the center). Because all my tests were done with a projector on a "coffee table" and not on my roof base it was almost impossible to place the instrument completely vertically in the center because of the shadow it made on the screen. (Somewhere here i have to say that the test was done with a projector  Vivitek DW265 with resolution 1280X800 and rated brightness 3500 lumen).
But do ALR have drawbacks in general?
Of course they do. The main drawback to ALR is the hot spot effect,  the image is brighter in its center and darker at its edges.
Another drawback is the limited viewing angle.
In both these areas Celexon is doing very well, contradicting the rule I would say. This "unorthodox" about her ALR behavior is what made me the biggest impression when I first saw this screen.
Minimal hot spot and extremely large for ALR viewing angle (the Celexon announces 160 degrees which are angles that usually offer only the white matte screens) is something you don't expect to see on ALR screen is the truth, and yet, the Celexon Dynamice Slate ALR achieves it not only on paper but in the real field .
This has a possible explanation, the screen does not overuse reflective substance in its material and keeping low the gain manages to get rid of all the disadvantages of classic ALR sail with gain near 1.0 and above.
Another advantage of this screen is that when we are viewing the fiber "disappears". What I mean with it. You can't tell where it's starting to end and if there's a fiber behind the picture. It's like it is camouflaged and disappeared leaving only the image to pop out of … nowhere! As impressive as it sounds, it's as impressive as watching it happen during the projection.
You don't really need any kind of masking on this screen, you can, while you need a 100-inch screen in your space, have a 120-inch screen for example, and when you play 16:9 material play a smaller frame, at 100 inches, and when your movie is 2.35:1, open your projector zoom and fill it up by taking the hearty 120 inches in CinemaScope. In both cases you won't even notice that there's more fiber, it's like automatically where there's no picture playing Celexon make a black margin, just amazing.
Of course I couldn't leave you without a video, so I prepared something small and comprehensive by comparing the Celexon Dynamic Slate ALR with a Matt White Gain 1 screen. Enjoy responsibly…
-Conclusion-
The Celexon Dynamic Slate ALR for me was a pleasant surprise that I haven't lived in video projection in a while. The improvement it gives to the image, especially in low contrast projectors (see DLP)  is impressive. Impressive is also the control over the room reflections it provides, perhaps the most destructive factor in a common projection room , such as our living room. And all this almost free from the major problems of ALR technology… and in a fair price i would say, this is a real achievement, congratulations Celexon!
And something I did not refer in the review, with this screen it is possible to view with not so much losses even in a space with lighting, if e.g. we want to watch a sport event and we do not want to turn off all the lights, Celexon ALR will help not to take as a result a washed image as with a classic white screen but a clean image with enough contrast and correct colors to enjoy our view. That is very cool in some cases.
This screen for me is almost necessary for viewing in a light colored room like a usual living room , as you understand the first piece that came to Greece is hung permanently in my living room. You may have seen some photos from my living room in this review, but believe me…for me its like i have rediscover the pleasure of projection….
If you want more information about the screen such as price, sizes e.t.c here is the official Celexon Dynamic Slate ALR Screen Link
God bless you all
Nikos Tsolas