New BenQ W8000
29 December 2015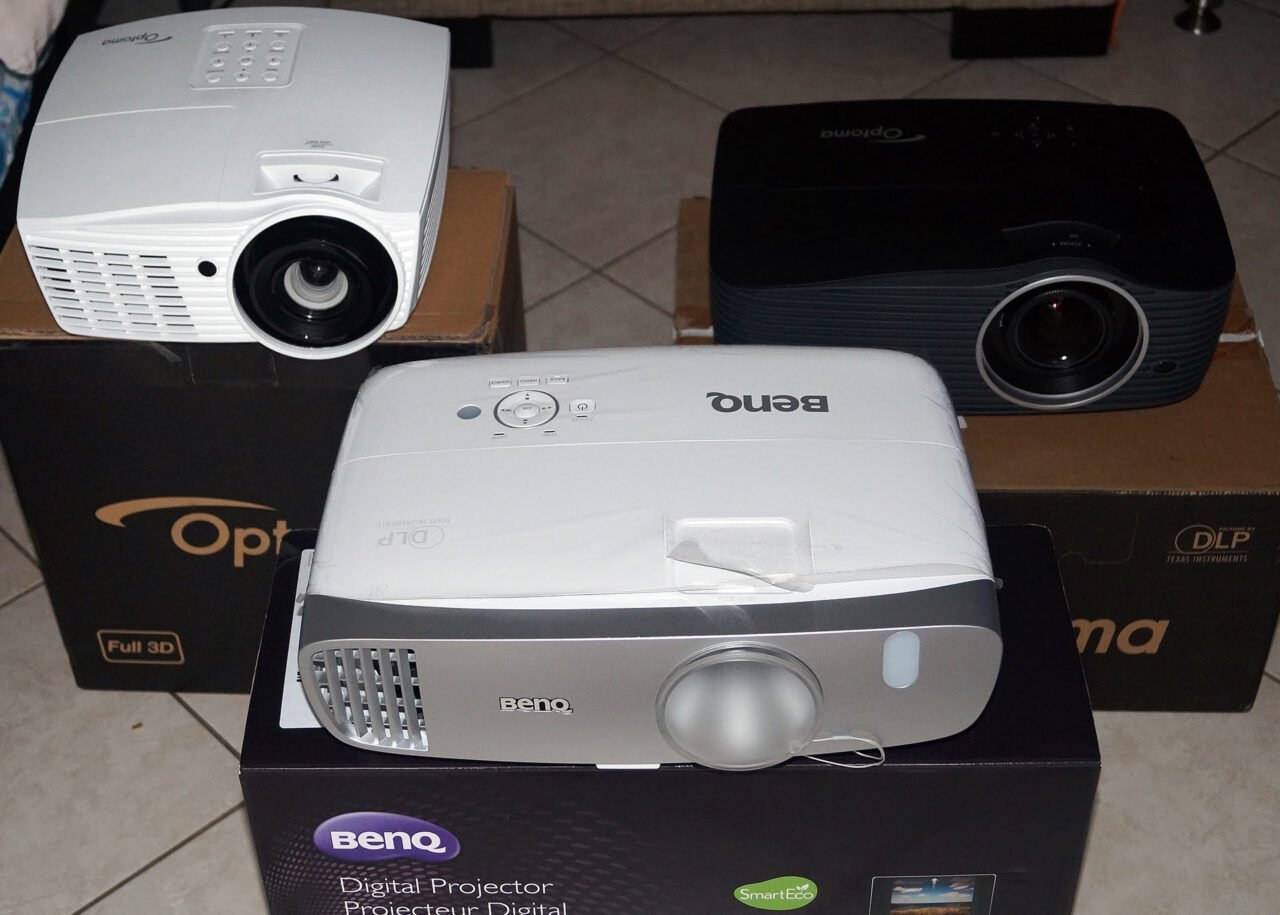 BenQ W1110 vs Optoma HD151X vs Optoma HD50
19 January 2016
H BenQ is one of the most consistent companies always making cautious moves as far as new models. This year presented three new models in the series Benjamin the W1110 to dokimazoymese this review here.
When you have the ultimate vfm projector market (W1070 +), it is difficult to present a model to go one step further this excellent value/image quality that you are used to your consumer audience. H the BenQ dare, could not do otherwise. Succeeded; we'll learn below..
With the company in essence W1110 presented a completely new 3D model (not just made a face ligting) but applying classic solutions such as optical with DMD 0.65 DC3 RGBRGB color wheel, with 6Ch speed, Brilliant Color technology, improving (as we have grown accustomed to the specific company) points in construction.
Let us look at the characteristics of
DLP technology Dark chip 3 0.65 '
1080p analysis (1920Ch1080)
Full 3D Support
Brightness 2200 lumen
Contrast 15000:1
Zoom lens 1.3:1
Lens shift lens (+ 10%)
ISF Certification
Color wheel 6 regions (RGBRGB) with rotation speed 6X (50Hz)
Lamp 240W with length 3500/5000/6000 (normal/eco/eco smart)
Operating noise 27/29dBA (eco/normal mode)
Weight 3, 3Kg
Dimensions 380 X 121 X 277 mm
O W1110 is larger and heavier than the W1070 +, with higher contrast available (15,000:1 out of 10,000:1) and reduced operating noise (27-28-31dBA 29dBA) as regards more easily perceived differences.
Design will say that the projector is "has" somewhat in relation to the W1070 + and has some individual changes with first and better the different design of lens shift. Now also with sliding door "disappear" and the adjustment rings on the lens when it is closed.
W1110
W1070+
Here to say that this little displacement of the lens on the horizontal axis is really salutary in many cases placement, and of course a big advantage over the competition in this category.
The BenQ is a company that always respects the consumer audience, leaning over it, listen carefully and make improvements where they really "hurt" their products, it has become accustomed at least until today.
So in the case of W1110. The issue with the penetration of dust grains in optical who have encountered at times some previous owners of models in shows is past. The new optical design prevents dust to reach the DMD and create those annoying stains on a black background that at times many of us have seen in our headlights.
Another important improvement is the noise reduction function with simultaneous better cooling of the projector by the new cooling system design.
W1110 now passes the "silent" projector category and can operate just next to us without ever having to bother us or distract us, with the temperature in the chassis to always remain in logikotata frames claiming maybe colder Prize projector category.
W1110 cooling makes use of natural flow of air from the side of the input having the fan on the side off. This fan will come into operation only if the user selected high altitude in the context menu of the projector, or if the temperature sensors perceive peculiar temperature rise, something that never happened in the 2 weeks that I had in my possession the projector.
The build quality of the known ranges W1110 honors levels has grown accustomed to the BenQ. Observing him carefully observe that the headlamp exudes an air of luxury I would say with the truly flawless finish. The glossy plastic kalokataskeyasmena, excellent Assembly quality function keys and known wonderful remote compose an image that hardly meet in headlights of low class.
Like small compact model the W1110 suffers unfortunately from the classic syndrome of light leakage from the air extraction grilles. There is no question of reflectance or prejudice our image as on older models because the leak is understood only if we look at the projector and ever.
Let's move on to look at the menu of W1110..
Menu
In the advance menu hiding all the "broth". RGB, gamma and CMS, i.e. the individual fields of the image can be adjusted completely and in detail.
RGB sliders
Three options for the operation of the lamp
CMS regulatory primary and secondary colors.
Second column of sound …
The third column frame settings..
Fourth column with basic system settings
And the ISF menu
Once you activate (with code) you can make all settings of the image through it
Finally the information menu..
Measurements
The projector came into my hands with 70 hours under his belt, so the bulb had a run-in and was ready to be erected opposite to the measuring instrument.
The truth is that you don't need any measuring instrument or any figure that convinced that the extremely W1110 out of playing the box, once I lit for the first time and saw his picture I realized …
Go though to see the gradient measurements (gamma) and shades (RGB) of grey that I got out of the box.
(lift the detailed diagrams arithmolagnos in case anyone wants to examine carefully all the coordinates)
Cinema mode, brilliant color off, lamp low, gamma 2.2
With brilliant enabled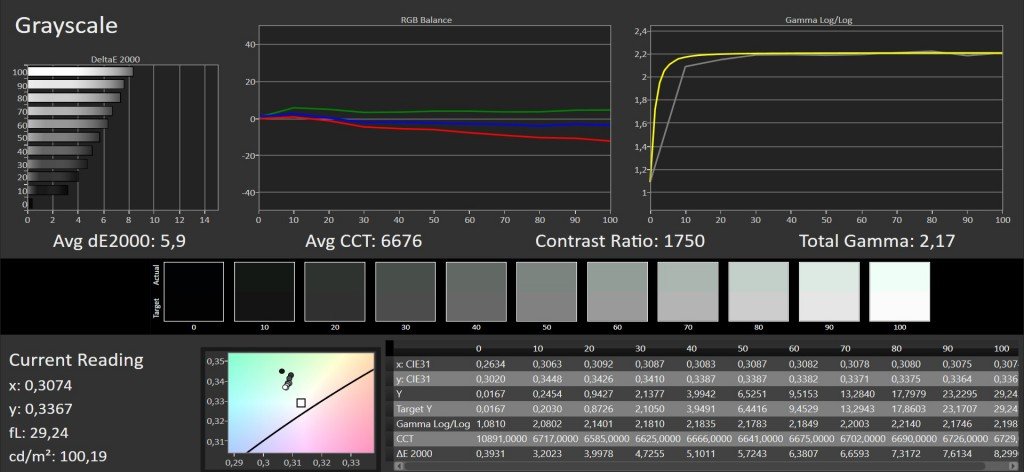 Outstanding behavior out of the box with RGB gamma and balanced reporting.
Here simply by lamp in high mode
and with the brilliant color
Really incredible behavior. From the brightness until the 22fl 44fl (exactly twice) W1110 refuses to lose excellent balance on grayscale and shades.
This means that whether you play 92 inches or 140, i.e. either the W1110 "Purring" with low lamp setting or "growls" by the lamp in the maximum and the brilliant color enabled, you'll see a balanced picture always conformed with international standards.
If we choose larger gamma, for example 2.3 or 2.4 W1110 then will faithfully obey and wiggle the gamma curve respectively.
gamma 2.3
gamma 2.4
With literally few clicks in the RGB sliders (for argument's sake and the photo) …
… the W1110 comes really ideal
To make it clear that there is no point in asking such a fine tuning other than viewing satisfaction of the relevant diagramatos. In practice, your eye will not perceive any difference whatsoever.
Let's see and the color behavior of the sector, W1110 BenQ "kordwnetai" that has done an excellent job.
Of course you will appreciate seeing this chart is not "I" at all the sliders of the CMS. To color triangle of W1110 "out of the box" is one of the best I've ever measured, so simply.
With brilliant on nothing changes ….
Let's see and measurements of brightness and on/off contrast
Brightness kalimprarismenos in cinema mode
Lamp low, BC off 712 lumen
Lamp low, BC on 920 lumen
Lamp normal, BC off 875 lumen
Lamp normal, BC on 1082 lumen
Lamp normal, BC on, bright mode 1430 lumen
Contrast full on/off
Lamp low 2366:1
Lamp normal 1780:1
Kalimprarismenoys home cinema projectors that make from 700 to 1100 lumen really in cinema mode won't find many out there, this is the truth. Small BenQ ranks easily in the headlights "cannons" able to comfortably fill any size screen chosen by the owner.
In contrast the theme W1110 not only surpasses the already very good measurement of W1070 + (2166:1), other shows and exceptional behavior when for some reason the "chwseis" all of the power holding a wonderful contrast 1780:1.
This to me means if anything better and not classic recipe of we take the old "guts" put them on a new chassis and built a new model, which is customary in small classes, Bravo BenQ.
As a general conclusion of measurements we can say that buying W1110 putting in a loft in your measuring instrument (if have) and doesn't deal at all with settings because the projector comes immaculately tyre kalimprarismenos, so kalimprarismenos even though I dare say that neither professional monitors can't put together the out of the box.
I believe that BenQ has fully understood the importance of playing the projector near the reference templates straight out of the box and I am sure that it has created a special Department that deals exclusively with the calibration of the projector before they pass the exit door of the factory. A big thumbs up, and may be followed by other companies as an example.
Impressions
lens-uniformity
Lock the projector in 1080p, desktop, good focus adjustment, sharpness adjustment and go.
First positive impression of the very "cozy" focus. Straight there that will "find" the first time, there is. The ring of the lens moving easy, smooth, with the focus has a wide range of facilitating the user every time sure setting and not known about doubt.
At first glance you realise that this lens is not going to challenge your mind never and nowhere. Integral focus from edge to edge of the image which you can see through, excellent clarity of outlines and minimal to nonexistent color diffraction.
I dared to take two from my desktop icons photos on two facing corners (upper right and lower left) to understand what I mean when I say exceptional focus from edge to edge of the image.
Top right corner
Lower left corner
And here a picture from Playa to see minimal to nonexistent color diffraction
Excellent for small BenQ lens sector and if necessary to recall from memory the very good lens W1070 + I had tried for a mini comparison, will say with confidence that is at least in the same well levels and perhaps surpasses already in points.
Somewhere here to say that the lens of W1110 is 2.5/100 as his predecessor, i.e. can give us 100-inch image from 2.5 meters which means that it can be settled even in small spaces, giving us the longed-for great picture.
Putting the BenQ to play all grayscale until the white you know directly that this is a quality DLP projector that the word color uniformity isn't in his vocabulary. White uniform from end to end without me kafetizoyses or odd shades I've seen at times in various other models.
Even in very challenging gradients (10-20ire) the W1110 is "calm" and color neutral in irritating degree course here will tell me someone that plays a role and the very good setting and will not be unfair.
Finally to say that the lens Shift works seamlessly and particularly easily.
noise/function
As I mentioned before the seasons of noisy W1070 passed irrevocably as we showed for beginning the W1070 + and now the W1110. With his fans have unashamedly lower rotational speed, the air intake to avoid having to work at all, understand that the W1110 strolled across, on that long under the "quiet home cinema projectors". Even with the lamp in full force (something which you never have, unless designed to open the screen over 130 inches) does not resemble anything older models of the company in this category.
Another test passed successfully the W1110 is that of locking with various devices. Locks seamlessly and quickly at any supported resolution and with any device. The test included a Laptop with display port, HTPC, sony playstation 4, blu-ray media player WD and oppo. With all the devices I have not faced any problem whatsoever, the bolt and directly W1110 accept without any changes to the analysis and if I did.
Ihos
To that I kathierwname "category" in the sound projector review is something imagined a while ago. But there are many users who make use of the built-in sound system and projector if there are projectors with so good sound like then at least owe W1110 to the taste and sound.
In stereo speakers W1110 now we meet on both sides of the projector. We can supply you with sound projector straight digital with picture from the HDMI input or analog audio from entering in.
The "revolutionary" BenQ's sound system includes speakers placed in resonance Chambers in conjunction with CinemaMaster sound improvement system that is supported by its MaxxAudio. This powerful digital audio improve machine incorporates the same pioneering Waves algorithms used by Hollywood studios for a dramatic strengthening of the bass and treble controls, so creating stereo effects which literally excite.
In practice the sound of W1110 arrives to meet casually a film screening in room 30-40 square or on the balcony of our House and offers an incredibly full sound with bass you to pleasantly surprise and tension that will cover even the most demanding user. I trying out the spotlight these past two weeks I played exclusively from the built-in speakers and the Bika and tempted even the trofodotisw and with quality flac music files. Just I was pleasantly surprised …
I personally have found many times in the uncomfortable position of having with my laptop to projector I carry and computer speakers, with cables and power supplies for a film screening in a friendly home or fifa until dawn "away", and I appreciate enormously from such a small volume, not to say that I've started and I consider essential qualification in this category.
Picture
The projector was erected opposite the 96 inch screen I, kentraristike, locked with the HTPC and "triggered".
From my side I sat back in my chair, I got mouse keyboard and remote control in my hands and the show started..
Light, light and back light. Frankly, my own dimension displays the W1110 converts in large TVs even in smallest possible setting (off, low lamp BC).
Exterior shots of the film turned a sunny day carried on unedited to cloth and light colors. It is truly magical way of living the movie through such shots in W1110, you don't want to ever soon.
The projector RGB level is literally perfect. Even in the very difficult shots that easily an unremarkable colour floodlight can be exposed as fatal skin colors in very bright shots, with excellent passes W1110 10.
The sharpness of the projected image is very good levels for projector in this class and the software supports very correctly the sharpening in each frame without exaggeration even if "eat" slightly the corresponding slider.
The detail is present but no artificial poysarismata or "fake" effects which disturb the (experienced) eye. As a result, you will receive a very relaxing other simultaneously crystal clear picture.
How to say … the image is a combination of correct ratio definition and softness with excellent balance between them.
Is the chromatically W1110 classic BenQ. Correct koresmoi and luminosities at primary and secondary colours guarantee in our eye insatiable patent confident satisfaction.
Particularly the gradations of some secondary colors such as pink, purple, blue, etc., spring up literally by the sail magnetizing the eye of the beholder.
Without I do measure the intermediate grades of the entire gray scale only per 10IRE, I'm sure the others follow the same path. Never and in no scene could not find a "blemish" on gamma and RGB. In all the scenes each brightness level, I didn't notice any compression or chromatic aberration. This shows just how linear the projector handles frames with different APL and how much good work has been done by the BenQ engineers in software to accomplishes this.
The same behavior is impeccable and the headlight low IRE. Even in very difficult shots for DLP projector (and especially this category) W1110 demonstrates excellent behaviour with correct gradients and spectacular enhancement information.
You can't imagine the headlights achileios calcaneus are black (see DLP) how important it is to properly manage the projector from the ratings that even can view. Is the a to z to get as much information on there low and showing the dark scenes as possible better.
The W1110 passes the dark scenes better than any other projector that I have seen so far in this category, including very good W1070 + of the same company.
To say more "laika" W1110 features the best black I've ever seen or measured in DLP projector under 1000 euro and coupled with impeccable factory setting to gamma and RGB passes even the toughest extremely dark scenes.
No compression anywhere, excellent promotion details and kontrastati 3D texture is what you will receive in the eye of the beholder in these very difficult dark scenes.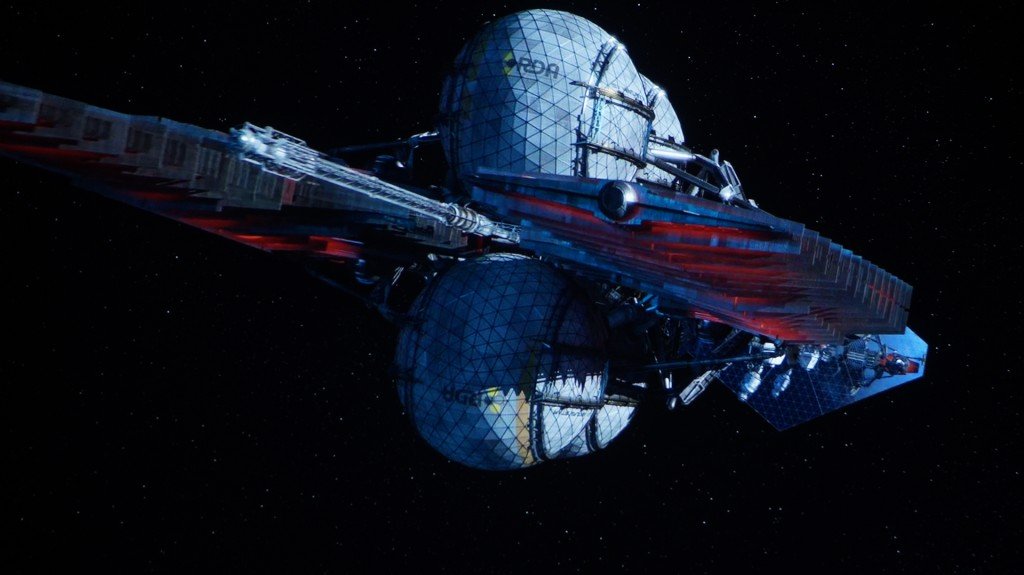 Of course I'm for native black and not using any device (IRIS, smart eco mode, etc.). If you select and position W1110 lamp eco smart then dark scenes are becoming even more three-dimensional texture and black becomes even deeper in the eyes of the beholder.
The eco smart has advanced functionality. In addition to regulating the lamp Watt depending on the brightness of the scene and adjusts the gamma resulting in your eye to receive greater contrast, increased brightness of the white spots and darker black in the dark. I admit that it has improved considerably in relation to previous implementations of BenQ others again think that an experienced eye will understand these variations probably annoyed. I, however, is the first time I let the smart eco lamp as an option and the "I forgot" watching material in earlier implementations always I knew within seconds if it tells you something about the degree of improvement.
Screenshots
And a mini Quiz on powerful solvers …
What classic movie are the screenshot below;
(Clicking on scrennshots you can view in Full HD resolution)
Conclusion
The economic crisis we are experiencing in our country in recent years this small projector category is perhaps one way CA many consumers to products full-size image. H BenQ seems to do everything so that in this category of consumers to offer cheap other yet intuitive picture and most importantly; Constantly develops a technology that has stalled because of what evolution DMD chip, introducing new models with better image than the previous. A real feat!
With the BenQ W1110 unveiled a new model that wins the viewer at first glance, kalorythmismenos factory, quality with very light and excellent black for the data and technology category.
Personally I think the BenQ struck gold vein again and my predictions are that we will soon be talking about the new best seller of small class.
BenQ W1110
Price: EUR 999
Mood: Divetec
Tel. 2102855080
Stay tuned because we follow a very interesting comparison!
Enjoy your views!
Nikos Tswlas