Is the future in video projection laser technology?
18 November 2014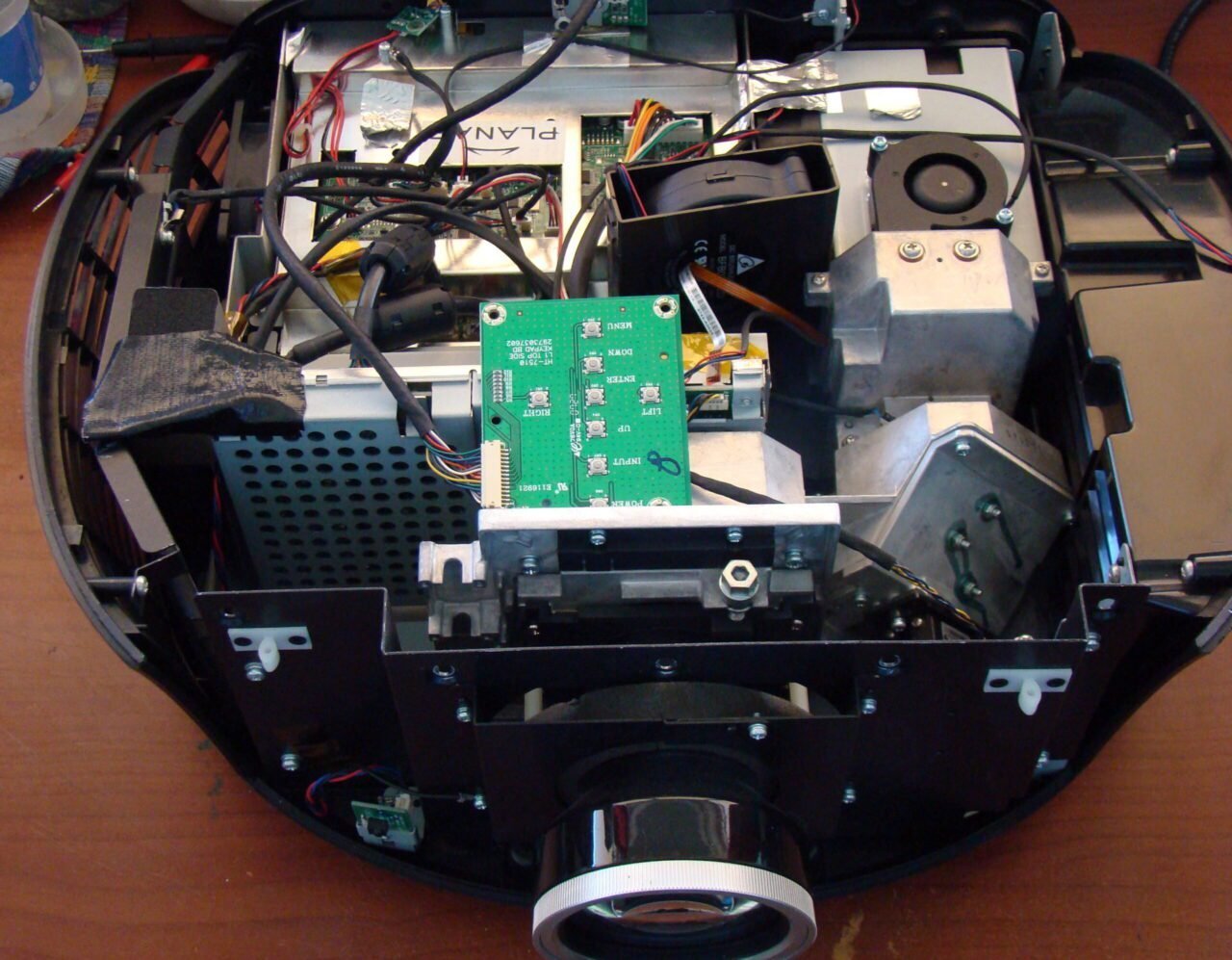 Planar PD8130 repair
9 January 2015
The fact that we live an enduring economic crisis in our country is something that cannot wait to read it in projectorjunkies for realizing I guess. This situation has made the category 1000 euros to < projectors to prevail as the most popular among cinephiles everywhere binteoprobolakides, and not unjustly. In this category there are projectors that deliver truly outstanding image and you don't need a fortune to acquire them. Otherwise we can call as the famous category of DLP!
The BenQ (Bringing Enjoyment to life Quality N) as a distribution company maker counts many years on her back, I would describe as a veteran of the space at times has manufactured projectors that caused at least the admiration of those who deal with the subject.
Characteristics of the very good workmanship (Japanese would say), and the "dedication" of DLP technology.
O W1070 + comes as a natural continuation of the best seller of the Greek and not only market, the W1070, having the aim to infiltrate and why not to prevail in the popular small category (< 1000 euros).
Let's not flyarisw but above and let's go straight to the presentation of W1070 +
Presentation
O headlight came into my hands a freshman, sealed in the box. Always unpacking a new projector is "sacred" and particularly enjoyable, something like the gifts Santa brought us when we were young (after it stopped … 🙁 ).
Go to enjoy hanging out, in a mini photo tribute …
Next to a 14ari laptop in order to "get" a sense of size W1070 + …
First impression on seeing the W1070 + is how quality shows. Silver plastic with brushed aluminum look, the application between them, the controls at the top of the projector, flip the lens shift, lens, everything on it is meticulous and kalokataskeyasmena. At any point of its construction is not reminiscent of small class projector.
On the same wavelength and emits the W1070 remote + envy much more expensive models.
Sample of how careful planning on everything on the W1070 + is even the small sliding rubber plastic that holds the lid of the batteries of the remote control. Don't tell me that doesn't happen after the unfortunate fall to looking outside of the batteries and the lid (usually under the couch … );
Impression, I did the operation of keys that give you the feeling that you push someone switch (with the corresponding noise) and give you an unparalleled confidence in use. Also the lighting works this way, on/off and not with time delay like we used to, IE we can have backlit activated as we want. I like!
Don't bore … I pulled into the video to see exactly what I mean …
[vimeo clip_id=114725116 width=640 height=480 ]
In W1070 +, there is a very useful feature lens shift (shift lens) with the known most flip something usually missing in models of low class and gives an important ACE in his sleeve.
Let's move on to look at the features and improvements of W1070 + compared to its predecessor.
Characteristic values
DLP technology Dark chip 3 0.65 '
1080p analysis (1920Ch1080)
Full 3D Support
Brightness 2200 lumen
Contrast 10000:1
Zoom lens 1.3:1
Lens shift lens (110%-130%)
ISF Certification
Color wheel 6 regions (RGBRGB) with rotation speed 6X (50Hz)
Lamp 240W with length 3500/5000/6000 (normal/eco/eco smart)
Weight 2, 75Kg
Dimensions 104 X 312 X 244 mm
Improvements compared to its predecessor
Increased brightness from 2000 to 2200 lumen
New eco smart mode which reduces consumption by 296W in 163W (average)
Optical redesign to increase the contrast and brightness (ANSI contrast 560:1)
Redesigned cooling system with noise reduction of 33/30 dBA in 31/28 dBA
Improved lens for sharper
Revamped menus with greater precision in the sliders
Menu
Opening for the first time in W1070 + meet this picture
From the main menu choose the Advanced menu and entering in the main menu of the projector
To the Advanced menu is delicious …
Measurements
Let's begin with measurements of brightness and on/off contrast of W1070 +
Cinema mode, lamp low, brilliant off : 720 lumen
Cinema mode, lamp low, brilliant on : 907 lumen
Cinema mode, lamp normal, brilliant off : 1152 lumen
Cinema mode, lamp normal, brilliant on : 1375 lumen
Bright mode, lamp normal, brilliant on : 1701 lumen
Measurement on/off contrast, low lamp mode, cinema, brilliant of 2136:1
With 720 lumen (kalimprarismenos as you will see below) on the lowest brightness setting and 1701 in maximum, we're talking about a very bright projector capable of projecting on screens during much greater than 100 inches.
Let's move on out of the box measurements of W1070 + which is really incredible …
Cinema mode, gamma 2.2, brilliant off, lamp eco
Cinema mode, gamma 2.2, brilliant on, lamp eco
Cinema mode, gamma 2.2, brilliant on, lamp normal
Standard mode, gamma 2.2, brilliant on, lamp normal
To make it clear that the spotlight was measured with 1 hour of operation on his back and out of the box measurements of gamma and temperature gradients of gray with left actually speechless.
The W1070 + comes completely kalimprarismenos from the factory and does not need nor half click on the sliders. Really look and look back the first chart and I cannot believe what I see. The same is true for the basic settings of brightness and contrast that are perfect in their default values something that I must confess that I do not have your computers ever.
Particularly the behavior of small BenQ to gamma values (which is the most important parameter of the image) is exemplary in any mode and this alone is a real feat!
The exemplary behavior of W1070 + the box of out is something that readily distinguishable to the naked eye from the very first minutes of viewing, before entering into the process to find your measuring instruments.
Very good is the color of behavior apart from the slightly compressed prasinaki (who didn't get to bring out the sliders of the CMS) which gripped and the secondary color cyan with him, others with 1 plug in lamp, such a color triangle trust me is just fabulous.
Cinema mode default
Luminosities colors
Cinema mode calibrated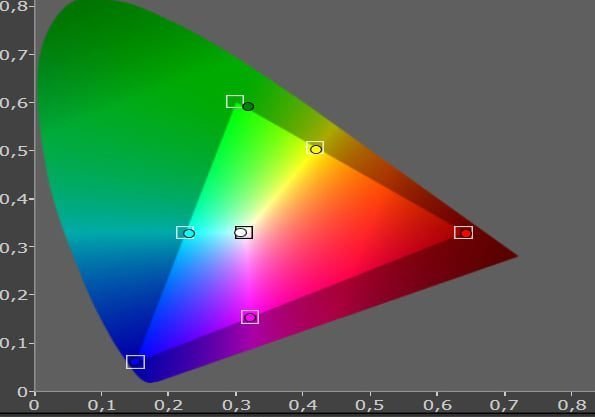 Luminosities colors
As a conclusion I would say that the W1070 + is a projector that the stretch and enjoy your movies without your mind at minimum setting, since it literally comes kalimprarismenos by the same manufacturer. Great advantage if we assume that the W1070 + appeals to the average user who will not deal and so thoroughly with the projector's setting at ISF.
Impressions
To tell the truth whenever I happen to see DLP projector and especially a good model, I always think the same thing.
This technology will remain with us for many more years. …
The DLPadiki image (of which I am fond and don't hide ..) is this familiar texture that attracts your eyes, even if you look 1024X768 DATA projector. Xyrafenia, white with white, rich color palette and amazing ANSI contrast that enchant. Particularly if you succeed and projector with good sharpness and lens, travelling there really …
Uniformity-Lens
The first thing that I found checking the lens of W1070 + was very good clarity and perfect focus from edge to edge of the frame, something that doesn't get used to seeing on models in this category, while having all the qualifications (see DLP) usually exposed due to cheap flashlight.
Something like that doesn't happen in the W1070 + and that in itself is news.
The focus is "stretched out" correctly in the thread of the lens and gives the user the ability to find the ideal position seamlessly into a few seconds of having the necessary breadth to make up and tweaks.
The sharpness of W1070 + approaching very expensive DLP deployments and does not resemble anything other projectors in the same category, even of the same company.
A thumbs up to the BenQ which exploited in the best possible way the great advantage of DLP, which is of course the classic "picture razor" and that I was missing the last time.
Very well doing his lens and diathlasewn sector passing all the paternakia that I seamlessly, confirming that it is indeed improved and immaculately assembled lens.
You need not be an expert, even at what simple picture that contains letters or strokes is eykolodiakriti the very good sharpness.
Second test that little passed with honors was this white uniformity across the frame. But DLP is will tell someone, what do you expect to see except very good uniformity?
Unfortunately poor uniformity (heterogeneity) and exists to DLP (longer) and is due primarily to the bulb and housing and secondly to design and assemble the optic or reduce manufacturing costs if you want with a phrase.
Thus a relative uniformity I've accustomed now to see in all the low class implementations (even in the preceding W1070) but not in W1070 +, white is white from side to side and "mysterious" viewers like me don't seem to see it. ..
Operating noise
Somewhere here it is advisable to make reference to very significant improvement I saw in W1070 + noise levels of operation.
The previous model was noisy and if you dare to put the lamp into position and normal, then really the noise was annoying.
The same about I in the older model of BenQ, W1500 in my previous test.
Don't forget that a headlight that emits 100 inches from 2.5 meters, probably is always very near us when watching films and if it's quite noisy then it is a problem.
The w1070 + is extremely quiet with the lamp in eco and not at all annoying in normal position approaching good low noise of big brother W7500.
Also the cooling system seems to make better management in temperature control of the lamp causing the projector chassis not uploads as large temperature as the older W1070.
Sound (Yes there from it..)
Connecting directly the blu-ray player on the W1070 + (here to say that the W1070 + locks seamlessly with any source and if I tried) I did not realize that the sound would pass from the HDMI would find a way to be heard in my ears. The W1070 + has built-in speakers and I ignored their existence.
So I left the movie scene to continue listening to the sound from the projector's built-in speakers.
Okay, it doesn't exist. Who are you hold W1070 + worth to live this experience. What's more likely is that the small BenQ projector inside exploits as speaker cab and returns normal bass!
Also the tension is really incredible. Comfortable you can watch the entire movie if conditions dictate (cottage, an unscheduled show on the porch, etc.). Okay … don't overdo it and try to listen dragging doxarioy onto the strings of the violin in the 9th Symphony in vinyl by the Vienna Symphony Orchestra … for this work there are more specialized acoustic means believe..  🙂
Don't bore … I was tempted to give you a taste … as far as this is possible through a video …
[vimeo clip_id=114747186 width=640 height=480 ]
Let's spend but on impressions from the picture of W1070 + …
Picture
Influenced (not to say love:)) even from my recent contact with the X500R of JVC threw the small BenQ directly into the deep.
In dark scenes, of course.
(Such scenes are the Achilles heel of technology and this is something that we know most everyone. In this area, this technology has fallen behind, but never forget that the rest is configuration set and the final result of the decisive and foremost has their combination and not just some of them).
First impression … mmm … not too bad for DLP projector. The black level is unexpectedly good for DLP projector and we do this value (without accessories, irises, etc.).
The 2136:1 compared to 1384:1 I had counted on older W1070 appears directly on the cloth. The previous day I had found a friendly home who watched for a few minutes a tiny Optoma (don't remember the model … all the same look …. 🙂 ) in the same category as well as a BenQ W6000 who happened to have in my space and I could easily do a relative comparison in my mind.
The W1070 + attributed clearly deeper black and from the two and I'm pretty sure.
Strange but it wasn't this, other that nothing to spoil the dark small as I predispose myself that will happen naturally because of the well-known weakness of DLP technology in such scenes.
Ratings low impeccable, the details were all there, and the veil that I imagined … shone through his absence. Don't expect to see the deep black a DILA … other relative money acquisition/attribution of dark scenes … small BenQ puts the glasses on multiple opponents.
I'm sure that besides high on/off contrast for the category data important role played and the spectacular setting that had the W1070 + from its box and looked to the naked eye when I known scenes that I've seen thousands of times.
Be aware that the DLP projectors and overhead projectors with low on/off contrast affected much from secondary reflections of space because of the higher level of them black. Because they are forced to play all its low ratings in higher brightness as a result to have more reflected light.
To give you an example, when I played a purely dark scene in X500R of JVC while seeing all the amazing details of the image, I could not see nor my nose if traboysa my eyes out of the cloth, so little light was used there low.
In W1070 + could easily discern the whole room, the remote on the table, etc.
Imagine how important it is to limit secondary reflections when viewed with projector low on/off contrast and what a boost it will give to the dark scenes.
Leaving the dark scenes and passing in the middle and bright footage starts the BenQ shows why DLP projectors still not only exist but also to fight such a hard battle arena such as digital projection.
The ANSI contrast of small lies at top levels for DLP projector (BenQ supports 560:1, that shouldn't be and far from reality) and combined with very good clarity and excellent gamma setting, literally painted projector. The contrast that takes your eye in medium to bright scenes are simply brilliant.
Color the W1070 + is a classic DLP projector. Colors Mesta, lively with correct gradations in saturations overflowing from the cloth. Actual feast as you will see in the screenshots below.
In the purely luminous shots a shapely and DLP projector kalorythmismenos as W1070 + really impresses.
Very light, distributed correctly with gradients that give at any point of the image the singularity it needs so as a whole no longer impresses the Viewer.
The best setting for viewing up to 110-120 inches is the cinema mode in combination with low lamp off brilliant, and gamma 2.2.
Eco smart option in the settings of the lamp has a corresponding function of mechanical IRIS and anyone can use it so besides power economy to achieve better contrast in dark scenes, which automatically sheds its conventional force the lamp depending the individual frames of the film.
Little that I didn't like is the truth (reminded me of mechanical IRIS older design) and favored the eco position permanently.
In general you could say that pleasantly impressed by the overall performance of the W1070 + and I admit that it was something that I didn't expect since as I said above I was already biased because of longer reknown "stagnation" of Texas Instruments in the evolution of the DMD chip.
The motion of the frame 24arwn W1070 + showed the classic "good" behavior of most DLP deployments. Does not claim nor other laurels and puzzling.
I having been accustomed the frame interpolation of more expensive models (what I say oh my God … fall fire to burn.) I have started and I am more strict eye the natural movement of 24arwn frames … and this concerns me somewhat.
The DLP projectors for years gradually began to show cheap models that can easily be obtained with relatively little money and see a decent picture in his parlor, now have begun to transport and good image quality of more expensive in these models and the principle I believe was with the W1070 +.
 3D
Here the W1070 + plays really change. For a test I put the known 3D blu-ray Avatar, Gravity and other cartoons such as Caroline that I've seen in several 3D projectors in order to make the comparison.
The first conclusion was that the W1070 + has so light that is one of the few times that I felt that not darkened the world wearing 3D glasses. Black had not some mysterious hue as I've seen in other small class of DLP and chromatic looked there kalimprarismenos (Mercy!)
There was no suspicion of crosstalk in all the scenes that I chose to see and only blemish that I could tell was a flickering light that eiseprattes in some tough scenes (the glasses that I used was not BenQ, I only wrote on them were made in China:).) But generally I find the 3D from the most "well rested" and impressive that I've seen lately on projector. Particularly the Gravity in 3D on the w1070 + gives you a permanent "chazochamogelo" from the various objects that try to Dodge every time unconsciously and that do you swear that come in on you.
Unfortunately the screenshots here don't make sense so when you find yourself at a distance "shot" …
Let's move on to some screenshots of "small" BenQ …
Screenshots
And for dessert after delicious croissants this junk video … Unfortunately in poor quality and analysis … for the moment at least, because in the future coming surprises in this piece … 🙂
[vimeo clip_id=114877095 width=640 height=480 ]
 Epilogue
 The W1070 + is really a value for money projector in every sense of the words. Warrant until every last euro cents that he asks the prospective buyer, small, lightweight, quality, quiet, easy to mount, clear, bright, long-lasting light bulb with excellent image in 2D and impressive 3D.
Comes like clockwork kalimprarismenos from factory and they just ask the owner to sit back on the couch and enjoy.
I still can't believe that you can see both good image with so little money, speaking always analog.
Busting 100 inches of only 2.5 metres will accommodate even the most strenuous and lounges will perform excellently debts basic home cinema projector, presentation tool in our work and entertainment mobile device in our country or in any area of demand since it combines picture and sound into one.
If you are preparing to enter the world of video or are considering some possible upgrade your home cinema days that are worth a look in W1070 +, which for me has all the qualifications to qualify the dominant small class of Projector combining usability/excellent picture/excellent construction quality.
As has informed the delegation that the period "runs" and a Christmas offer, every purchase W1070 + accompanied by a pair of 3D glasses of BenQ.
BenQ W1070+
Price: EUR 949
Agency: Divitec
Tel. 2102855080
Finally, I should like to take this opportunity to express a personal point of view as regards the purchase of electronic products and not only. Read occasionally in Greek forum or hear from friends and acquaintances of their intention to make market projector or other device from internetomagaza abroad because of the lower price. I'm not saying, when you find a product you are interested in significantly lower price then is actually temptation, I shopped it myself several times that way and I still do. I have heard however and at times deaf style stuff, I ordered my projector from Amazon because it had bid in EUR 599 while in Greece had 629 euros. Children of mercy, does not go anywhere so. If you think giving your money to foreign giants Amazon style or to foreign sellers on ebay make savings, think again.
No Greek shop will never have lower or same price with an ebay seller or one of Amazon. The reasons are obvious I think, let's not analyze here (let's mention just a for instance, Greek tax office, you want another?:).) The point is though that in Greek Greeks work shop with small profit out of a market even if you have to give something more, their family will live and not only. The money will stay here and would return with an appropriate way to you. Let us bear that in mind the next time our which we decide to send our money to our friends Germans, Englishmen, Americans, etc. and not a Hellinikon shop due to a small discount in the long run will cost us double and triple. In other words let's stop to dig ourselves our own hole …

Stay tuned because it follows a very, very interesting festive review!
Good views and good holidays to all!
Nikos Tswlas